Visiting the NDR Landesfunkhaus in Hannover, Germany, as part of a series of dates in Europe to mark their 20th anniversary, New York-based a cappella group Naturally 7 called on the support of PM Blue (the event technology branch of the PM Group) and an Alcons sound reinforcement system.
The seven-member group included covers of songs by Phil Collins hits Michael Bublé, all performed without instruments, as they produce the sounds of guitars, trumpets, clarinets and drums themselves with their voices.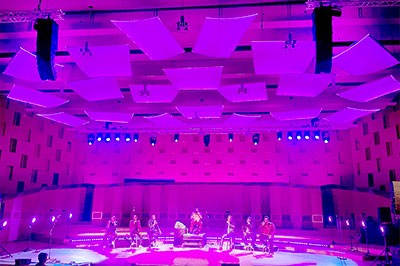 'We work at a very high quality level, and that is why we always prefer to use our own Alcons systems instead of the installed system at the location,' says Joachim Stankowski, team leader at PM Blue.
The Alcons set-up included four LR14B double-tuned 12-inch band-pass bass boxes, 16 LR7/120 passive two-way micro-sized 8-inch line arrays, two VR8 two-way ultra-compact 8-inch monitors and three Sentinel10 Amplified Loudspeaker Controllers, the 'engine' behind all Alcons systems.
Lennart Wenzel, Senior Project Leader at PM Blue, handled the sound system design and deployment: 'There are hanging points, but they are used by the house PA, which is not available for public concerts not organised by the NDR,' he says. 'So, we decided to use the LR14Bs with their pole-mount to stack five LR7/120 boxes on top, filling the gaps in the front rows with LR7 as front fill on the stage lip and spotting the outer seats with a VR8.'
With this set-up, he found the right balance between not having a big PA stacked on stage and achieving a good coverage. 'The characteristics of Alcons Audio are the best for jazz and classic concerts,' he says. 'The bright and differentiated sound pattern of the speakers are perfect to transport the sound as natural as possible, especially at this concert where the voices were the main focus, it was important to create a natural sound. And it worked pretty well, as always with Alcons.'
The Naturally 7 tour of Europe will visit more cities in Germany and Denmark later this year.