Qvest has designed and equipped a mobile TV station for the Arabic 24/7 multiplatform news service, Asharq News in Saudi Arabia, with end-to-end media architecture for contribution, content production and distribution using the most current media and IT technology.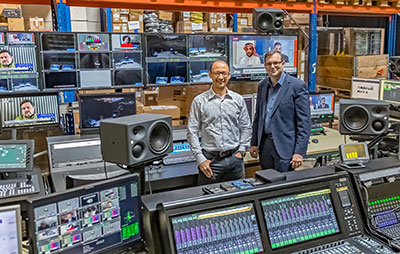 Asharq News benefits from versatile production options with fast set-up times, international deployment capabilities, and remote connectivity based on highest news broadcasting and live streaming standards.
The high-performance production set-up covers all media workflows from ingest to playout, and offers full connectivity into the corporate and broadcast network infrastructure. This allows it to be used on short notice anywhere on location for breaking news or to increase coverage at existing and new sites for the broadcaster. The working environment for live news reporters can be assembled, disassembled, and shipped easily and quickly. After defining the complete workflow, the TV production environment was inaugurated in its full role as a test set-up at the premises of Qvest in Cologne, Germany.
'This new mobile TV production set-up means a major upgrade for our 24/7 multiplatform approach at Asharq News,' says Asharq News CTO, Omran Abdallah. 'Our team will benefit from the extensive features of the system, especially from the fact that we can now broadcast live at short notice from practically any location in the world in absolute top-end quality. Thanks to this latest collaboration with Qvest, we are taking the broadcasting experience for our audience to the next level.'
The staff at Asharq News benefit from a complete live news production set-up and a studio environment with the integration of systems by industry-leading specialist companies. This includes Grass Valley cameras with Augmented Reality functions, a full production gallery with camera control, video and audio mixing, and Avid FastServe studio playout. Qvest integrated XR Set Solution by Vizrt and the camera tracking technology stYpe for optional state-of-the-art Augmented Reality visuals.
'Given the very short time frame and the very large technical scope, this was a really special project,' says Qvest Dubai Principal, Mohamed Hamid. 'A key success factor was the excellent, international collaboration of our Qvest team with the partners at Asharq News. With our best-of-breed principle for media technology, we have together defined a new standard for mobile news production.'
The newsroom environment features up to 40 workstations for journalists, including an Avid PAM system with 480Tb of usable Avid Nexis media storage. In addition, the journalists has use of dedicated Avid iNews newsroom software, editing with MediaCentral Cloud UX, voiceover capabilities, Mediaproxy software-based IP compliance solution, and the full integration of the broadcaster's news agencies. The set-up also contains media composer edit suites as well as fully equipped workstations for creative graphics editing.
A fully equipped master control room offers full contribution, quality control and distribution. IP-streaming is supported with products from Ateme, Riedel, Skype, and TVU Networks. The extensive set-up – which uses more than 8,500m of cable in an area of 180sq-m – was successfully opened in March 2022.
More: www.qvest.com