Playing at the Broadway Theatre, the bold new musical, Flying Over Sunset, is groundbreaking – not only for its left-field storyline of a fictional meeting between Aldous Huxley, Clare Boothe Luce and Cary Grant all dropping LSD, but its use of the TiMax system to track the performers for video projection for the first time on Broadway.
Written and directed by Pulitzer Prize and Tony Award winner James Lapine with a score written by Tom Kitt and Tony nominee Michael Korie, the scenic visualisations in this unusual staging take the TrackerD4 away from its familiar use in audio.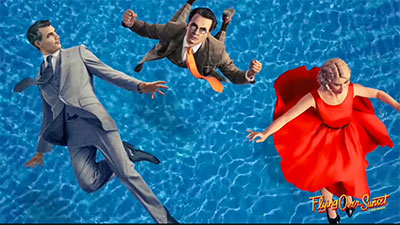 The precision and versatility of TiMax TrackerD4 stagetracking is well established, and its status with other spatial audio engines beyond TiMax SoundHub is well earned. Packing flexible OSC protocol communication capabilities to ensure compatibility with most contemporary audio and media platforms, TiMax TrackerD4 was always destined for a wider stage.
In Flying Over Sunset, TiMax TrackerD4 was in place to manage a series of visuals including a moving effect that centred on each of the actors' positions, following them as they walked through turbulent water projected on the stage. 'The accuracy of TiMax TrackerD4 running at 50 frames per second (fps) allowed the effect to be creatively possible,' says Production Video Technician, Chris Kurtz. 'Trying to time that movement would have been extremely difficult and TiMax alleviated the need for more complex line of sight tracking products.'
With all equipment supplied by Sound Associates, the TiMax TrackerD4 set-up is simple, using just six TTd4 Sensors positioned as mirrored pairs to form an elongated hexagon shape from upstage to downstage. The successful aim of this configuration was to have at least three Sensors covering any playable part of the Beaumont's very large stage, providing effective redundancy as only two Sensors need to see an actor's Tag for them to be consistently tracked.
The actors, each wearing a single TTd4 Tag, can be accurately followed by the video mapping which applied the attention-grabbing effect, so they appeared to be engulfed by swirling turbulent water as they progressed through it. Another effect made the sea level off the beach rise around the actors as they walked down the beach and into the water – a simple but ingenious use of freely-interactive video scenography.
As the first deployment of TiMax Tracker D4 for this debut multimedia control application, Flying Over Sunset proved a great success, especially where the need and expectation of speed and accuracy were exponentially levelled up. The challenges faced were not just technical but logistical, the biggest of which, according to Kurtz, 'was trying to figure out coverage without moving lots of scenery'.
'This latest entry for TiMax TrackerD4 into such an important new showcontrol application represents a new era and market sector for the product in live show and event automation, especially important at a time when demand for precision performer tracking for spatial audio, media and lighting is on the rise,' says Dave Haydon, from the OutBoard UK team who created and develop TiMax. 'We're happy that TiMax TrackerD4 is at the forefront of this wave and so accessible to any size and scale of production.'