Solotech UK has been accredited as an L-Acoustics Authorised Training Centre, now able to schedule, deliver and certify training across the full range of L-Acoustics products, independently of the manufacturer.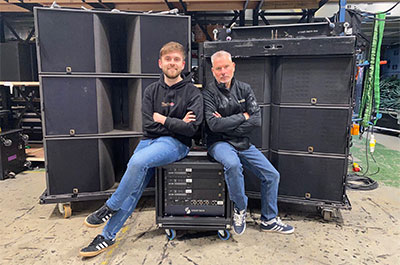 Solotech in the UK has a well-established relationship with L-Acoustics via its companies SSE Audio, Wigwam, Captial Sound and BCS. Since first investing in a V-Dosc system in 2005, the company has built up the largest rental stock of L-Acoustics in the UK, become a sales partner for the brand and achieved manufacturer accreditation as a distributor, systems integrator and rental.
Solotech's accredited trainers are Application Engineer Kyle Durno and Technical Manager Nick Lythgoe, who have a wealth of L-Acoustics experience in integrations and touring respectively. 'Our new status means we can offer the end-to-end process, including course delivery and the issuing of certificates,' says Durno.
'The L-Acoustics ATC status means that we can now tailor the course schedule to meet our customers' requirements,' Lythgoe adds. 'For example, if we sell a system to a theatre, we can arrange to deliver the training to them on site as part of the package. We can put our own crew and warehouse staff through any training their roles require, and we'll continue to schedule training at our UK locations as well and advertise these to the general public via our website and social media.'
'Solotech UK's extensive experience as a trusted partner gives their team the expertise to share that knowledge with the professional sound community throughout the UK,' says Etienne Corteel, Director of Education & Scientific Outreach at L-Acoustics. 'The excellent team of Solotech's Authorised Training Centre will ensure that more engineers make the best use of their L-Acoustics knowledge by always being up to date with the latest in our technology. Solotech UK's educational outreach will boost the industry as we restart live events, kick start careers and most importantly, continue to ensure L-Acoustics clients receive the utmost in service and support.'