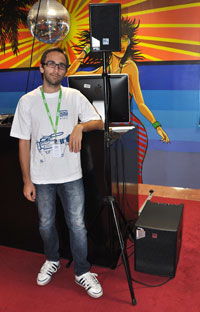 UAE distributor Melody House has supplied the Dubai branch of the School of Audio Engineering (SAE) with a HK Audio Lucas Smart system.
SAE – which was established in 1976 and has established a network of more than 50 campuses around the world – will use the new system for sound reinforcement in its performance room, where students in the DJ course hone their skills.
The smallest PA system in HK Audio's catalogue, Lucas Smart comprises two satellite speakers with 6.5-inch mod and 1-inch dome tweeter powered by a 250W RMS digital power amplifier that is integrated into a 10-inch subwoofer. Although the system is small, it is engineered to deliver a wide, uniform dispersion pattern.
'The Lucas Smart system is a compact, portable yet powerful system which makes it a very convenient system for all sorts of portable applications,' says Melody House Business Development Manager, Dino Drimakis. 'Educational institutions like the SAE will find that they have made the right investment as it is not only convenient and cost effective but it has the great sound that people have come to expect from HK Audio.'
More: www.melodyhouse.ae