Based near Ibbenbüren in northern Germany, events and exhibitions specialist L&S GmbH has taken EAW's KF740 three-way line array system. The investment extends the company's esablished EAW inventory by adding 16 KF740 full-range enclosures, along with eight matched dual 21-inch SB-2001 subs and eight MicroWedge MW15 stage monitors.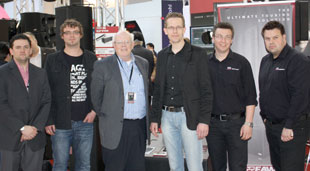 The deal was concluded at the Pro Light & Sound expo in Frankfurt, and the order was completed by Trius, EAW's German distributor. 'Having used many other line array systems in the past, we are familiar with the market – and the EAW/Trius combination offered the best price/performance ratio,' says L&S MD, Tobias Berghaus. 'Since Trius are based just 15 minutes away we know we can rely on them for fast back-up.'
L&S has been using EAW technology for the past six years, building up 75 different system enclosures. These include the original KF650/KF695 standard array system with LA400 and SB750 subs, followed by the JF80, JFX560 and KF-300 for corporate events.
The timing of the acquisition will enable the company to push further into its core market segments – particularly in the corporate events sector, where they run a number of variable size indoor and outdoor mobile stages under the Easystage, Quickstage and Arcostage categories (the largest Arcostage 200 measuring 17m x 12m with a roof height of 14m). Finding a system compatible with their roofs became paramount in their search.
'The line array hangs needed to fit into our stages for multipurpose use and be easy to handle,' confirmed Tobias Berghaus. 'At the same time the flight-cased enclosures needed to be 'truck-size' compatible for economy of transport – and all this criteria the KF740 fulfills.
'However fantastic the speaker system sounds, if we cannot depend on the trust and reliability of the distributor then we don't buy,' Sales & Marketing Director Stefan Werthmöller adds. 'In the case of Trius, they are a long term partner of L&S, with very high business and technical expertise, so it was a no-brainer.'
The new system will be driven by Lab.gruppen PLM 10,000Q and PLM 14000 amplifiers, which also formed part of the recent tranche of acquisitions by L&S, along with further moving lights. This will enable the company to provide advanced, fully-integrated technical coverage for audiences up to 15,000.
More: www.eaw.com