The Royal Thai Armed Forces Headquarters in Bangkok is also home to the Thailand's Ministry of Defense, where boardrooms, conference and war rooms have been equiped with sound reinforcement systems.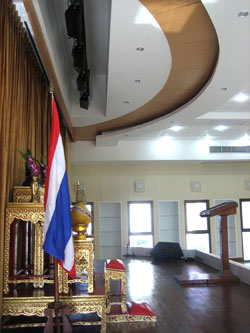 The Ministry called on Thai A/V Systems contractor Fuzion Far East to improve the sound quality in the building's function room. Fuzion Far East Director Siri Wongkamolchun called on a Nexo loudspeaker system and Symetrix Jupiter 8 'zero learning curve' signal processor to deliver the quality and functionality required, along with minimal set-up time and at a competitive price.
Fuzion Far East installed a complement of Nexo loudspeakers in the ceiling, including four PS8s, one PS8TD-V3, and two LS400s. Two Quest QM12MP stage monitors provide fold-back with minimal risk of feedback, and three Quest QA3004 two-channel amplifiers power the loudspeakers. Inputs include existing microphones, a DVD player, a dedicated notebook computer and a tie-in for a visiting computer. Six Coemar Ribala500 halogen lights illuminate the stage.
The Symetrix Jupiter 8 is one of three hardware configurations in the Jupiter Series and provides eight inputs and eight outputs. The unit accepts all of the input sources at the headquarters' function room to deliver equalisation, limiting, mixing,and feedback suppression using the Gain-sharing Automixer 1 app. 'We were excited to try the Jupiter product because it uses context-specific apps, like on a smartphone, to minimize set-up time,' says Wongkamolchun. 'It was so easy to program and worked perfectly from the very beginning. We will use Jupiter products in other installations.'
Users control the system with a Vity VIMATY70ZR wireless touchscreen panel, selecting input sources and setting levels via the Jupiter 8. Controls that users have no need to adjust are not made available to them. Users also control lighting presets using a Sunlite interface that is controlled from the same wireless touchscreen panel. Finally, the unit also controls an NEC NP3150 projector and a locally-made RAZR screen.
'The installation was very successful,' Wongkamolchun reports. 'The A/V system is professional and functional, and pressing the room into service for lectures and meetings has been transparent and straightforward for the Ministry of Defense.'
More: www.symetrix.co
More: www.nexo-sa.com