Having hosted major sporting events including the World Cup, South Korea's Daegu Stadium is now preparing to host the 2011 International Association of Athletics Foundations World Championships in Athletics.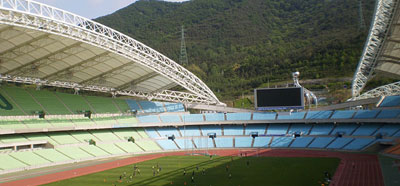 In preparation for the IAAF and other future events, the 66,000-capacity stadium has seen an upgrade to its audio facilities, which now includes a large-scale JBL Variable Line Array (VLA) Series loudspeaker installation with 18 line arrays in distributed clusters.
The Daegu system now calls on JBL VLA901 and VLA601 line arrays –chosen because of their ability to provide high-impact sound reinforcement at throw distances beyond the reach of traditional loudspeaker designs. In Daegu Stadium, the distances between the seats and the speakers can be more than 160 feet. The VLA901 and VLA601 speakers are suspended above and in front of the seats from beams that are part of the roof's support structure. Eighteen distributed clusters of VLA901 and VLA601 loudspeakers are located throughout the stadium, to cover the seating areas and other locations where sound reinforcement is required.
The sound system was designed by Wrightson, Johnson, Haddon and Williams (WJHW) of Dallas, Texas, and the installation was performed by Sovico Corporation of Seoul, South Korea.
JBL VLA Series loudspeakers are specifically designed for permanent installation, where even coverage, high intelligibility and very high sound-pressure levels are required. The line offers a modular approach that gives system designers the ability to build large line array systems for bigger venues, or design smaller line array systems for use as distributed clusters in arenas and domed stadiums, and larger performance spaces and houses of worship.
More: www.sovico.co.kr
More: wwwjblpro.com