Despite the growing importance of the web as a news and corporate sales tool, very few pro audio companies are making the most of video on their sites. Los Angeles-based Wild Touch Productions, headed by industry veteran Andrew Wild, aims to change that…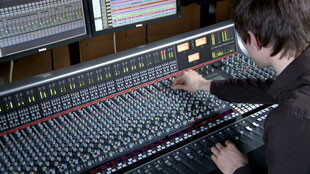 'I think the time is right for companies in the pro audio and video business, and studios, to include web based videos as part of their marketing mix,' he says. 'Our company aims to produce high-quality videos that tell the message and story of the product, or service, at an affordable price.'
So when Solid State Logic wanted to promote the AWS 948 analogue audio console, Wild Media Productions was ready and able to produce a series of videos for the cconsole company's website and YouTube. Earlier in the year, Wild Touch Productions also shot and posted a video series on the C10 HD compact broadcast console for the company.
'When we started working with Wild Touch Productions last year, we felt that we wanted a more direct way of telling the world about the C10 HD and AWS 948 consoles, which are two of our best selling products,' says SSL Head of Marketing, Dan Duffel. ' We've put a lot of effort into providing a stylish and comprehensive web based experience, and video was the best way of taking this to the next level.'
Wild Touch Productions manages each stage of the process, including scripting, location shooting and editing – and Wild himself takes a hands-on approach.
'The scripting is the most critical part of the process and with my sales and marketing background we can really focus in on the most important aspects of the product's unique features and benefits and how best to present this message in an engaging way,' he explains.
In many cases the Wild Touch Production video projects include a main product video together with multiple in-depth operational training segments.
Wild has been producing videos for various companies including Solid State Logic, Euphonix, Avid and Blue Sky professional audio monitoring systems since 2004. 'What matters is to tell our client's story in an engaging way, aimed specifically at potential clients. Our goal is to increase the client's revenue by letting a global audience experience their products and services.'
More: www.wildtouchproductions.com
More: www.solidstatelogic.com