Touring UK theatres and clubs with rapper Little Simz, Eric 'EZ' Wade's EZ Services production management company has enjoyed active support from sound system supplier, Entec Live.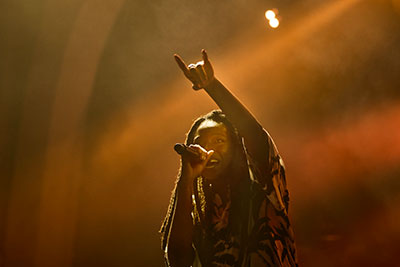 The relationship kicked in after Wade was introduced to Entec head of sound Dan Scantlebury by James 'Kedge' Kerridge – monitor engineer for Little Simz and monitor tech on another Entec act, Gorillaz. Fittingly, Kedge had also served his apprenticeship at Entec, and so was able to provide the recommendation based on his own experience.
'I had worked with various production companies and was always struggling to find the right relationship,' Kedge says. 'It was generally Entec's approach that impressed us – how they spoke to us, how they dealt with quotations and their general workflow are all of the same high calibre. I can call late at night with a requirement and it's there first thing in the morning. On top of that, their gear is always well prepped and maintained.
Most of Little Simz' dates have been theatres and O2 Academies (culminating in three nights at Brixton). Along the way, when they have not played through house systems they have rigged Entec's d&b audiotechnik KSL PA (which they rigged at Brixton) with d&b V- and C-Series onstage. In addition, DiGiCo SD12 consoles were stationed at both FOH, for engineer Claudio Cueni, and in monitor world for Kerridge, while RF was based around Shure Axient wireless system and PSM 1000 personal monitors.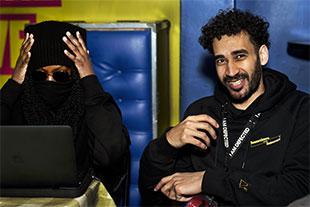 According to Wade, it had been Kerridge who had set the standard for Entec: 'He handles the technical infrastructure and that makes Claudio's task so much easier.'
There are further Entec personnel within the crew, as Colin Woodward is audio tech and patch technician, while Tom Olorenshaw does the prep and makes sure the workflow is smooth. Reflecting on their roles, Wade says, 'Colin was another who backed our decision to go to Entec while it's really impressive how Tom gets everything to the team; his working method is perfect.'
He also credits Dan Scantlebury, whose remote role has been vital, since with a limited production budget they are not carrying a dedicated system tech. 'Dan's working knowledge of venues is second to none,' he says.
On working with Little Simz, he says: 'I have been production manager with a lot of artists, each with their own challenges, but she's definitely an artist I've had the pleasure of growing alongside and I'm proud to be with her. She's lovely to work with – she doesn't put herself across as someone you can't approach but she likes to know who her crew is. She sets a high standard which we strive to live up to.'
More: www.enteclive.com