PreSonus has updated its PreSonus Sphere membership plan – which includes licences for Studio One Professional, Notion and other software – with a Community feature allows members to connect to discuss audio topics with other enthusiasts, share mixes to get feedback, get advice on the concept art for their next digital release and find other Sphere members to begin collaborating.
The Community is optional for PreSonus Sphere members. Any member who participates in the Community begins by creating a public profile that only PreSonus Sphere members can see.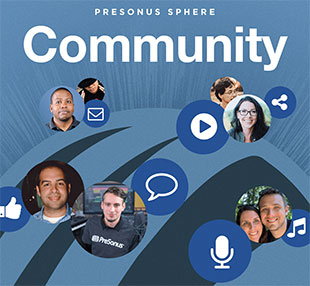 Community members can add a photo, cover art and audio examples of their productions. The public profile also includes highlights skills such as arranging, audio editing, composition, mastering, mixing and instruments played. The Skills define default Channels and help other members connect.
When a post is created, text can be added and images, videos audio files (or all three) attached. Other members can like a post, add comments and ask to connect with the poster.
PreSonus Sphere members can browse public posts, search by name or email, or browse a Skill in the Connect area to find someone with a particular skill (a session musician or mastering engineer); then invite them to connect.
'From the outset, PreSonus Sphere has provided access to an extensive library of creative software tools, including every Studio One and Notion add-on and plug-in that PreSonus makes, plus Cloud collaboration tools and storage, chat with PreSonus software experts from around the globe, exclusive promotions, extensive video training, and events – all for a low monthly or annual membership,' the company says. 'With the addition of the new Community feature, PreSonus Sphere has taken another major step in creating a true global online community of musicians, audio engineers, and music producers.'