Having outgrown its previous US headquarters, Powersoft has moved to a larger and more suitable space in Flanders, New Jersey. This expansion is supported by the appointment of Sara Schiffler as new Business Development Manager for the Americas.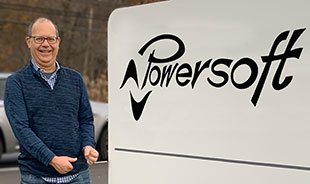 The new location has dedicated private offices, demo/training space, a lab area and is 45 minutes from Newark airport. 'Our new headquarters significantly improves our ability to host our customers and dealers for training, demonstrations and seminars,' says General Manager, Tom Knesel. 'The atmosphere is far more relaxed for our employees, and we have almost tripled the space, thus providing better service to our customers while supporting growth.'
Concurrently, Sara Schiffler brings more than 20 years' A/V experience to Powersoft as she pursues her passion for audio. Schiffler, who also speaks Spanish and Portuguese, has been appointed to the role of Business Development Manager, to further develop opportunities for Powersoft in the Americas. She previously worked at audio manufacturer Music Tribe, as well as a variety of manufacturers in the A/V industry.
'Tom was looking for someone with a deep background in integration and with experience in live sound,' she says. 'I had previously worked with Tom at Music Tribe and I knew him as a leader who I respect and trust. My conversations with the larger Powersoft team supported my desire to make it my professional home.'
Schiffler's main responsibilities will be to develop brand awareness of Powersoft, not only as a trusted amplifier manufacturer, but also as an audio solutions provider across the Americas.
'I have always admired the Powersoft brand for the respect it has within the market as a reputable brand with enviable support, it has been a true pleasure to see how the team is supporting one another across all departments, with a unified focus and true teamwork and passion for audio,' she says.
'I am so pleased to be working alongside Schiffler and very much look forward to expanding our opportunities in the Americas,' Knesel adds. 'With that and the relocation of our headquarters, we are in a unique position to further expand Powersoft's footfall and reputation in the region, and provide the best level of support to our clients.'
Supporting its expansion within the US market, Powersoft is currently advertising new positions in Flanders (NJ) for an inside sales coordinator, support engineer and consultant liaison (remote).
More: www.powersoft.com