The inaugural Esland Awards Gala – the Grammy equivalent for streamers in the Spanish-speaking world – took place at the Palau de la Música Catalana, the Art Nouveau jewel in Barcelona's theatrical crown, and UNESCO World Heritage Site, during January.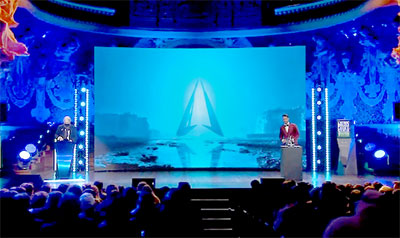 Hosted by streaming star of YouTube and Twitch, TheGrefg, the three-hour event highlighted the best in content creation and streaming throughout Spain and Latin America during 2021, and was itself streamed live on its own Twitch channel.
Sound reinforcement for the event in the historic auditorium required by just four of Amate Audio's latest Xcellence series X102FD active point-source systems and four accompanying X18T compact subs; with a couple of Nítid series N26 systems as front fill.
An advanced performance compact 2x10-inch design, the X102FD is capable of continuous output levels of up to136dB SPL – equivalent to four compact line array elements. Its onboard Active+ digital power and control platform provides a two-channel 3kW continuous programme power source. DSP system presets with advanced FIR filters configure control parameters for common application environments and 0° phase-alignment of the X102FD with other Xcellence models – including the X18T – in a matter of seconds; access and monitored via a rear panel colour touchscreen.
Active+ also provides Dante audio networking and full Ethernet remote control (with the company's DSP Studio 3 software) via dual Ethernet ports; Wi-Fi remote control is enabled with the CWK-D Wireless Communication Kit.