Opened in 1992, the Katsushika Symphony Hills cultural centre in Tokyo comprises two halls – the main 1,318-seat Mozart Hall honours the ward's friendship city agreement with the Floridsdorf district of Vienna. The hall boasts some of the best acoustics among Japan's numerous concert halls. Its smaller companion, the 298-seat Iris Hall, takes its name from the monshō (crest) of the ward.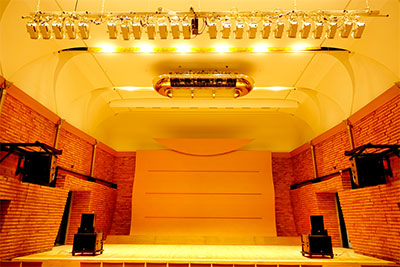 Offering a range of cultural programmes, both spaces stage classical and pop music concerts by Japanese and international artists along with dance, theatrical and art performances. The centre also provides a diverse range of events for people of all ages.
As the its 30th anniversary approached, and in response to audience feedback regarding the quality of the venue's existing audio system, the management team moved to upgrade the sound systems in both halls, while simultaneously renovating the building's architecture. Requiring a flexible and easy-to-use system that could handle sound for the various types of content, several providers were invited to demonstrate solutions for review by a team that included an acoustic consultant and a facility construction company. Following these demonstrations, the team chose an L-Acoustics Kara II system from Tokyo-based L-Acoustics Certified Provider Bestec Audio.
The system design in the Mozart Hall – which possesses a similar shoebox interior architecture as the Wiener Musikverein, the home of the Vienna Philharmonic Orchestra – took precedence. The proscenium loudspeakers here needed to be re-positioned to allow for uniform distribution of sound pressure levels both horizontally and vertically throughout the hall, improving on clarity in high frequencies to the upper level balconies.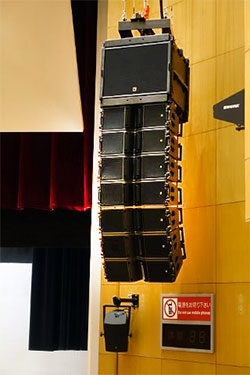 The LR system consists of two arrays of seven Kara II each, topped with one SB18 subwoofer. A centre array of six Kara II with one SB18 provides coverage for the ground floor audience in the middle seats. Six 5XT are embedded under the stage as front fill, while one Syva per side gives side fill. One X8 per side cover the front of the balcony floor. Performers on stage are served by eight X12 monitors, with two rigged up LR and six placed on the stage.
For further flexibility, the theatre is also equipped with a mobile system of two stacks of six Kara II and two SB18 subwoofers that can be used for shows requiring more dynamic SPL. Fourteen LA4X amplified controllers drive the entire system.
The Iris Hall has been equipped with two A15 Focus vertical arrays per side as the main system. Front fill consists of four 5XT embedded under the stage, with one X12 mounted on each sidewall. The stage monitoring system consists of one X12 mounted on each sidewall, and two X12 monitors placed on the stage floor. The Iris Hall also has a mobile system, of one X15 HiQ atop one SB18 subwoofer per side. Ten LA4X amplified controllers drive the entire system.
Since the upgrade, the main and mobile systems have met the in-house needs of the technical team, and the various performers and world-class productions it supports. 'While we have always marketed Katsushika as having great sound, in reality we got as many negative comments as positive ones from audiences before,' said a member of the Symphony Hills technical team. 'Now, we have no complaints at all. This new system does not disappoint. We are proud to continue providing a world-class theatre experience to our community.'
More: www.l-acoustics.com