Located in the heart of Oslo, Telegrafen (the Telegraph Building) offers everything from six flexible event rooms and five bars, to three game zones with over 40 games and activities — such as darts and the Dutch shuffleboard game Sjoelbak – in the city's Nordic Baroque-Nouveau landmark building, blurring the distinction between business and leisure. This breadth of use of almost 270,000sq-ft of space required a similarly adaptable audio installation.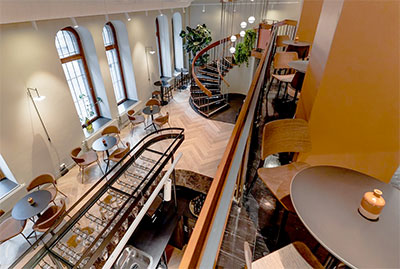 'We needed a partner who could ensure high-quality sound in big, flexible spaces, larger educational facilities, restaurants, bars – in other words, we needed distinct solutions suitable for everything from fun, experiential sound to clear audio for conferencing,' says Steffen Johansen, Technical Project Manager for system integrator Bravo. 'We needed a provider that could deliver products that met all of our needs, and Bose was the clear answer.'
The solution included 14 Bose products serving different roles throughout the venue for a cohesive, elegant audio experience. These included Bose DesignMax in-ceiling loudspeakers, Panaray MA12 modular columnar array loudspeakers, PowerSpace and PowerMatch amplifiers, and the Bose Videobar VB1 all-in-one USB conferencing device. While the diverse selection of loudspeakers reflected the different styles throughout the building, the Bose Videobar VB1 in the meeting room ensured transparent conferencing technology for high productivity and ease of use for guests.
'What's so cool about this project is the variety of Bose components used throughout the venue,' says Jørn Akerhaugen of Skagstindgruppen, which owns the retro-styled venue. 'Telegrafen provides an amazing experience for the eyes and ears thanks to Bose innovation and audio quality. The restaurant is one experience, then as you move throughout the space – from meeting rooms to other gathering areas – it's an incredible, immersive journey.
'I had no doubt that Bravo and Bose would deliver exactly what was needed for each unique space,' he adds. 'The end result exceeded my expectations, and I'm proud to show everybody how incredible each space is — they're all amazing. I'm so proud of how everything fits into the aesthetic and character of our venue and how easy the solutions are to use.'
More: https://pro.bose.com