Visionary Bergamo 2021 is part of Visionary Days, where hundreds of under-35-year-olds discuss life challenges and ways they can shape the future at the Bergamo Fair. The event unfolds over ten hours of collective brainstorming and six inspirational talks, with 500 young people involved in more than 80 roundtables, all streamed live. An inspirational talk opens each session by introducing a topic and then passes the topic to the attendees to develop ideas and visions. A 'dynamic poster' is then drawn up and printed at the end of the event, edited by 'Lee', an artificial intelligence, creation by the Visionary Days team.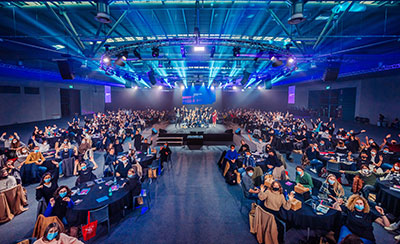 Produced and coordinated by Go-On – a production studio specialising in highly innovative events – the AVL set-up for this year's event was handled by Airone Service, managed by Jacopo Mapelli, who fielded an audio set-up based completely on RCF technologies and which inclided an TT+ line array in an unconventional system configuration.
'We needed a versatile solution that could manage speeches with maximum intelligibility, high-powered music but also clear and understandable service communications,' says Luca Andreini, coordinator of the Visionary Days, who woked in collaboration with the event's technical coordination. 'Airone immediately proposed RCF, and I must admit that the choice was appreciated and shared. The event succeeded perfectly, with a quality that made us enthusiastic,' says Andreini.
System designer Marco Piccini created the audio project using Ease Focus. 'To get the best coverage of the audience, which sat 360° around the stage, we used a centre ring of four TTL 33-A four-module line arrays covering the two long sides of the venue. Two clusters of four TTL 31-A boxes were used to cover the narrow areas. We also created two cardioid configurations of TTS 36-As on the two longer sides, to give optimal low-frequency coverage without re-entering the stage.'
On the stage, four TT 25 SMA wedge monitors were accompanied by eight compact two-way TT 052-A speakers as fill for the front rows.
'The production was impeccable and our RCF TT systems proved to be up to par, with the compliments of all the stakeholders,' says Airone Service owner, Fabio Pacis. 'We set up everything quickly, and the speed of optimisation with RDNet 4.1 is certainly noteworthy.'