Tucked away in a north London garden, broadcaster and choirmaster Gareth Malone has a studio that was designed and built by Miloco, fully soundproofed and acoustically treated. 'It sounds incredible in here, he reports. 'I mostly record vocals, my piano with a Sontronics ribbon mic and write demos here. I have Pro Tools and an audio interface. I also have various guitars and a bass and am slowly building up my synth collection.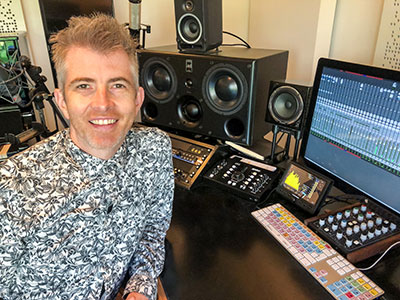 Having recently added two extra sets of loudspeaker monitors – ATC close-fields and Avantone mix cubes – he found switching between them had become had become arduous and inconvenient. His solution was a Nero desktop monitor controller from British studio gear designers, Audient. ''Before the Nero I had to switch speakers in my DAW and that was so cumbersome that I rarely bothered,' he says. 'I knew that I needed a switching device that was transparent and would fit on my desk at hands' reach – Nero is a significant improvement.
'It's the first time I've had a "cut" button, which has proven very helpful when mics feedback,' he continues. 'I also wanted a mono switch: this has transformed my workflow as I monitor most of the day in mono and allow myself a little stereo treat now and again. It's great to have that at my fingertips instead of having to change in the box.'
Malone has spent a number of hours in this studio – especially during the more challenging periods of the lockdowns dictated by the global coronavirus pandemic. It is from here that he hosted the Great British Home Chorus on his YouTube channel, a 2020 lockdown choir for amateur vocalists longing for a sing-song. Channelling his experience of 2020 into a moving choral piece, he used the studio to compose 'Locus Iste' for the Stay At Home Choir, which was performed by 1,500 singers from around the world in 2021. The final video is the culmination of online rehearsals, masterclasses and global socials.
With so much time spent in his studio, it not only has to sound great but feel comfortable, too. With large acoustic glass doors, it is flooded with natural light and he's able to watch the world go by as he works. 'I also have Philips Hue lighting, which was a brilliant investment as I can control it from within the house and there's a lighting state for every room,' he says. 'I just need a sofa now…'
More: www.audient.com