Winner of seven Tony Awards when it opened on Broadway in 1971, Follies is currently on a six-week run in the 1,100-seat Eisenhower Theatre at the Kennedy Center in Washington, DC.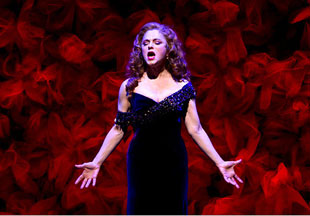 The show is considered by many one of James Goldman and Stephen Sondheim's greatest musicals. Starring Bernadette Peters, the sound design for the production is by Kai Harada and his team, comprising engineer Patrick Pummill and assistant designer Jana Hoglund. To help in achieving his desired sound image, Harada insisted on a Stagetec Aurus digital console and Nexus digital router.
'Based on my experiences with Stagetec equipment – the Nexus on Wicked and the Nexus/Aurus pairing on Zorro Moscow and Hinterm Horizont in Berlin – I knew the system was extraordinarily powerful, reliable and most importantly, sounded good,' he says. 'The show sounds exactly the way I want it to sound – natural – and I know that part of the reason is due to the Aurus console and the Nexus mic preamps.
'There are 20 musicians in the orchestra pit, which translates into 46 orchestra inputs, plus a star-studded cast of 37, and every little nuance and detail is delivered beautifully through the system.'
Pummill, who is in Washington mixing the show, welcomed the opening of Stagetec's NY office this year, which enabled him to get training on the Aurus before load-in. He claims that he was able to get the system 'installed and set up in record speed'.
'The truck was unloaded on Monday morning, and the console was passing audio by Monday afternoon,' he says. 'We had the first day of cast on stage on Saturday whereupon they did a complete stumble-through of the show. We were through 80 per cent of our total work by that point; normally we'd be 50 per cent or 60 per cent by that point. This allowed us to spend the next several weeks of Tech and Previews dealing with the most difficult remaining 20 per cent. We weren't playing catch up with other departments.'
'There's been a lot of positive feedback about the sound of the show which is a great testament to Kai's team and our equipment' says Rusty Waite, President of Stagetec USA. 'Seeing all three of them take to the system so quickly and at times working altogether on the surface really was impressive and definitely made for a more efficient workflow.'
More: www.usa.stagetec.com