Seizing on the slow pace of 2020-21 business to develop solutions using Dante audio over IP, Peltrix CEO Amit Peleg explored the means to offer corporate and entertainment clients a production quality solution for remote music production using available off-the-shelf technology. His efforts led to an experiment that successfully synchronised three groups of musicians hundreds of miles apart, so that they could play and improvise jazz.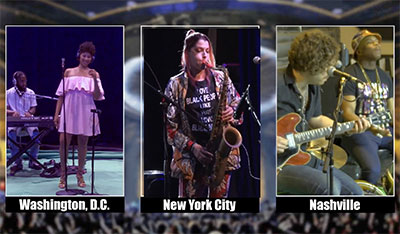 Working with Audinate and the Blue Note Entertainment Group, Peleg was able to link Sony Hall in New York, the Howard Theatre in Washington DC and Studio Instrument Rentals in Nashville such that the musicians in each location were able to monitor each other in real time – but he needing incredibly low latency to succeed.
The solution involved a simple Layer 3 network, with each location having a different subnet. Peleg used Sonifex AVN-GMCS grandmaster clocks in each location to receive GPS and then synchronise the PTPv2 IP network to an accuracy of less than 1µs. The AVN-GMCS is a PTPv2 grandmaster clock for use with AoIP applications. PTPv2 (Precision Time Protocol) is used to synchronise all the nodes within a network, with multiple units at multiple sites allowing WAN AoIP synchronisation, performed simply and accurately, enabling sub micro second synchronisation between all nodes.
Dante Domain Manager was used to configure the devices on the network. As new Dante A/V products were being released during the project, Peleg was able to add real-time video for the musicians to monitor the other locations, as well as the audio. In the final solution, system latency was so low that the musicians were able to comfortably play together as if they were in the same room.
More: www.sonifex.co.uk