Looking to modernise workflows, and renew technology and equipment in its MAM and playout infrastructure, Georgian Public Broadcasting (GPB) called on Broadcast Solutions Group to provide the necessary engineering, delivery and implementation of key production components.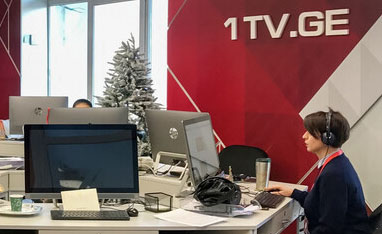 Headquartered in Tbilisi, GPB is among the country's largest producers of original programming and documentaries, and hosts two TV channels and several radio programmes. Content is also seeded via satellite and the internet to several European and Asian countries.
As part of its modernisation, Broadcast Solutions implemented a new traffic system, ingest, playout and content gathering, graphic systems, alongside MAM and the company's own hi human interface control solution. Broadcast Solutions' hi human interface control system provides identifying signals in the on-air part of the workflow and integrated with new Grass Valley equipment, which was also supplied by Broadcast Solutions. A further aspect of the assignment included training of staff and 24/7 service during operation.
'GPB focuses on new forms of production,' says GPB CTO, George Kumsiashvili. 'This project pushes our Georgian First Channel programme to be one of the region's most modern and high-tech media outlets. Additionally, the project design pays great attention to data protection and information security components.'
Broadcast Solutions implemented a traffic system to enable GPB to plan and produce in the long term and with ad hoc immediacy necessary for news programmes. The system was customised to interact with Georgian advertising agencies, which included a localisation of user interfaces and metadata adaptation to the Georgian language. Etere centralised ingest system and content gathering for the whole GPB complex allows systematisation of archive materials besides performing operational tasks for file ingest and 32 channels baseband ingest simultaneously.
The automated on-air playout was implemented for GPB's two TV channels with the possibility of further extension. With this upgrade, GPB works in HD, but all principal parts of the solution are ready for switching to UHD without essential investments.
The MAM and file-workflow management tool from Etere streamlined the production workflows, thus allowing to combine several GPB departments into one single unit and fostering the interaction of the new infrastructure with the existing postproduction systems.
During the project, both partners paid particular attention to the training of GPB staff from various departments and support during initial on-air operation using the new workflow. Part of Broadcast Solutions' consultancy was the implementation of a new organisation and operation scheme for GPs employees that were associated with the technological and workflow changes.
The complete project was managed and delivered during and despite the Covid-19 limitations and challenges, with Broadcast Solutions set up on-site but using remote training, testing and acceptance proceedings.