The Muny – Municipal Theatre Association of St Louis – is an 11,000 seat outdoor musical amphitheatre, located in Forest Park, St Louis, Missouri. Each summer, it is filled with the sights and sounds of Broadway, now served by a pair of Allen & Heath AHM-64 audio matrixes.
Sound Designer David Patridge specified AHM-64 as the audio hub for the venue, replacing an older distribution system with next-generation 96kHz 64x64 Audio Matrix Processors. 'It's a lot of power built into 2U at a price point that blows away alternatives,' he notes.
Using the 64x64 channel Dante option card allows AHM-64 to connect to amplifiers, microphones and other devices on a Dante network, including third-party audio consoles within the existing system design. 'The AHM provides seamless connectivity to Dante and fits into an audio over IP system well,' Patridge adds.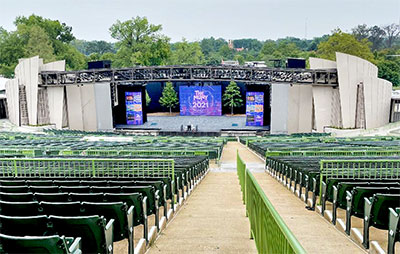 AHM-64 uses FPGA technology and has the power to deliver more processing than the usual open architecture platforms, including 8-band PEQ, gate, compressor and delay on all input channels, and 8-band PEQ/30-band GEQ, compressor, ANC, source selector, limiter and delay on all zone outputs.
'The system design that David put into place at The Muny is a perfect example of what AHM is designed to offer,' says Allen & Heath USA Marketing Director, Jeff Hawley. 'More and more consultants and integrators and designers are seeking out options that put audio quality first as they upgrade and configure installs of this type. With the Allen & Heath XCVI engine from SQ, Avantis and dLive behind the AHM-64, there is no question as to just how great things can sound. AHM comes with a well-established touring and critical audio application pedigree.'
AHM System Manager software and AHM-64's flexible architecture allow rapid configuration, striking a balance between the simplicity and set latency of fixed architecture, and the flexibility normally reserved for open architecture platforms. 'The AHM-64 user interface is extremely intuitive and clear,' Patridge confirms. 'With AHM System Manager on a Mac or PC we can easily handle sound management, paging, audio distribution, and speaker processing roles as needed. It's a great system that we've put at the heart of the audio design at The Muny.'
More: www.allen-heath.com