SSE Audio has upgraded the house control package at the Pavilion Theatre Rhyl around a Yamaha PM10 mixing console to accommodate the high channel counts and robust technical demands typical of its productions. Delivered in time for the Pavilion's pantomime season, the upgrade was critically needed, as the theatre suffered significant flooding when a water tank burst on the second floor of the building causing extensive damage to the front of house in July 2021.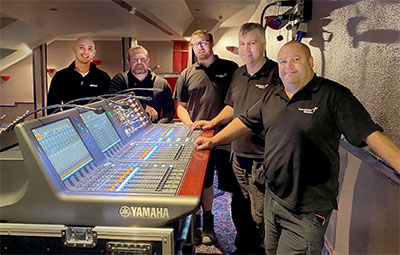 With the venue's long-serving Yamaha PM5D console written off by the water damage, Technical Manager Andy Hughes set about sourcing a replacement. 'We're delighted with the PM10 and can't wait to unlock it's potential,' he says. 'Our PM5D served us well over the years, but this is a new adventure in technology and the console's capabilities. The service we've received from James along with all of the SSE team as well as the support from Tom at Yamaha has been fantastic.
'As we have so much experience with Yamaha, we were naturally drawn towards the new Rivage PM Series. We have a host of touring consoles pass through the theatre, so we've seen most of what is available, and quite simply we prefer the Yamaha approach.
'Theatre productions often come with a high channel count – you can have 20 or 30 cast members all wearing wireless microphones, a band, effects, playback etc,' says Live Sound Specialist James Baker, who handled the sale for SSE. 'There's plenty of scenes to recall. With its high I/O count, intuitive workflow and powerful processing, the PM10 is the logical choice from the Rivage PM range. We invited the technical team over to our offices in Heywood for a Yamaha Demo Day and they were able to get hands on with a PM10 with additional support from the Yamaha Sales team.'
The full package supplied by SSE uses the Yamaha PM10 surface with a DSP R10 engine as the centrepiece. Multiple I/O options were specified including a Yamaha RPio622 configured for 48-In/32-Out, two Rio3224-D2s and four Rio1608-D2s, all with Dante connectivity. 'It's envisaged that the RPio622 will sit either at the console end, directly linked by fibre or via a pair of optical tie lines we've installed in the theatre so it can sit on stage,' Baker explains. 'Then the Rios add further flexibility, so for example one can be in the orchestra pit and another stage left, linking in via Dante over the building's Cat 6 network. We've supplied Cisco switches throughout to aid the connectivity options available to them.'
The system was packaged in Sigma Fabrications cases ,complete with Sigma Electronics panel work. As part of the delivery, Yamaha's Application Engineer Tom Rundle was on site for the initial configuration and training for the theatre's technical crew.
'This is a fantastic system – the whole Rivage PM Series is great, and it is breaking new ground in terms of specification for the price point, with the PM10 sitting at the very top,' Baker says. 'Pavilion Theatre Rhyl now has a rider-friendly control package that will serve them well for many years to come. It's been a pleasure to supply the team, and I look forward to working with them again in the future.'
More: www.sseaudio.com