The Chameleon Event Production team working at the Hilton Hotel in Vienna had almost completed preparations for a sales meeting planned by fashion headwear company New Era when Austria announced its lockdown in November. The experience of Chameleon's personnel combined with pathogen eradication tools from sister company Entec UVC SafeClean saved the day, allowed the production house to reconfigure its studio in Milton Keynes and stage the event virtually.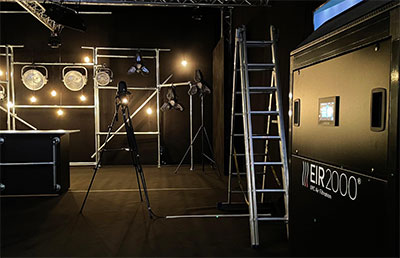 'We were two days away from having the carnet ready to go,' explains Chameleon Production Manager, Sam Parkins. 'All technical CADs were developed, signed off and all the custom scenic had been created ready to be trucked. Immediately we got wind of the situation I spoke to my client and we agreed the only way to get the job delivered was to consider what would be needed for a studio-based shoot. So I transitioned the crew back to Milton Keynes.'
The event was to have been one of four staged each year for New Era. And while it was set to have been a lavish live show featuring full room projection mapping and turnkey production, Chameleon is well accustomed to producing filmed events for streaming and content delivery, since the first lockdown.
Carpenter Richard Lake set to work enlarging the studio space to fit the design conceived by Parkins in collaboration with colleague, Cameron Kerr. 'At the time we started on the alternative plan Vienna was still technically viable, so we had two trains running simultaneously, with freelancers here building the scenic, before making the switch,' he says. 'We needed the client to sign off a design that they were happy with and, since we have designed 20-plus unique feeling events for them in the past, they were pleased to do so. We have a fantastic relationship with them and they trust our methodology completely.'
But with Covid rife in the UK as well, Chameleon needed to ensure the studio was environmentally safe. Having attended a demonstration of Finsen Tech's new key components – Zeus, a smart, cabinet-based surface decontaminator, Thor high-output UVC disinfection robot and EIR 2000 high-capacity air filtration unit – the event was saved a second time.
'We used all three,' Parkins says. 'Thor carried out one cycle in the main room and the other in the Green Room daily, and we used the EIR 2000 on every shoot day. We were tested for Covid three times a day, and if we hadn't had these pieces of kit to assure crew, I am certain it would have been difficult to keep the trust of the crew and clients to work so closely over a long period – during the build and the show itself.
Instead, it was business as usual. Chameleon fabricated a custom backdrop with technical stylings and a nod to the Vienna design, including a workshop counter to demonstrate the headwear, and an area of visual appeal to showcase models demonstrating the new range of apparel. This was presented as if to an audience.
'We filmed the product in 25 sections as if it was live,' Parkins recalls. 'We shot ten hours over three days and then edited down the 30 hours of footage to individual product categories, to be hosted by the client on a live website, for sales managers to explore the new content remotely across Europe.'
To achieve this, Chameleon fielded an eight-camera PPU which was split across different areas. 'We used eight lenses to film the products with a single cameraman and one director to minimise personnel on site. Everything else was done remotely and controlled separately, with one person vision mixing between the various camera shots.'
The production could not have been more seamless and at the same time Chameleon were pleased to have been able to offer New Era the gold standard in virus protection. 'We were even able to stream the Multiview to one of the senior personnel so he could watch the show from every camera angle, and interact,' Parkins says.
'New Era has always enjoyed collaborating with Chameleon over the past seven years but for this event, Chameleon really went above and beyond to deliver a completely seamless event, when the direction and the deliverables changed at the 90th minute, says New Era Brand & Events Manager, Alisha Crompton. 'We completely put our trust in their methodology of redesigning our event so that we could still meet our deadline and deliver the sales tools to the sales force for a successful sell-in season. Their bespoke studio made all staff feel completely Covid-secure and we can't thank them enough for the fantastic job they delivered.'
'I expected a good reaction from the client but [the event] was more than that and became a real talking point. Because of the extra precautions taken everyone had felt safe, which was an absolute blessing,' Parkins adds. The biggest element in pulling this off, he says, 'was having a team with experience – it's the kind of thing that gets you found out otherwise'.