Cardiff-based theatre and events specialist Stage Sound Services is the largest UK stockist of EM Acoustics equipment with more than 1,000 loudspeakers in its rental inventory, and recently added six R10 and ten R8 loudspeakers from EM Acoustics' flagship Reference Series range. The purchase represents the first Reference Series delivery to a rental company.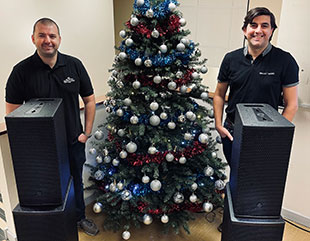 Reference Series offers a 'no-compromise' options for point source applications requiring ultra-high quality sound reinforcement in a versatile, low-profile package. The R10 was previewed at ISE in 2020, and is now joined by its 8-inch and 12-inch siblings, R8 and R12. Reference Series loudspeakers are distinguished by their interchangeable waveguide options (supplied as standard) and an a new approach to crossover design that marries the components together.
'We're very pleased to take delivery of some of the first pieces of R10 and R8, especially as we were involved in the beta-testing of the R10,' says Phil Hurley, owner of Stage Sound Services. 'We've always supported EM Acoustics – they're a British company that makes consistently good products, which explains why we have a lot of their gear in our inventory. When they approached us to beta-test the R10, we were very pleased to do it. I've always had great respect for Ed (Kinsella]'s design talents – he's a clever guy – and we could see that they'd come up with something a bit special with the R10. Having tested it quite extensively on Ghost Stories in the West End where the sound designer, Nick Manning was very impressed, it was easy to make the decision to invest.'
Hurley believes that Reference Series will be a game-changer for EM Acoustics. 'I think R10 will become the go-to product in its category,' he maintains. 'It can compete effortlessly against similar offerings from other manufacturers and R8 is the same thing in a smaller package. In fact, we purchased the R8s without even listening to them, simply on the basis of what we knew of the R10s. They both pack a terrific punch for their size and the sound is flawless. We've found that most EM products don't need much processing to sound good, and Reference Series is no exception, which makes them very easy to deploy.
'As for the rotatable, interchangeable waveguides, they are a stroke of genius – the commercial advantage for rental companies is huge as we essentially get two products for the price of one, and that for what is already an extremely versatile product. In the current climate, that is a very significant advantage. For those who weren't already fans of EM Acoustics, Reference Series is likely to change their minds.'
The new gear has just gone out on the stage production of Dan Brown's The Da Vinci Code, which opened in Bromley before embarking on a nationwide tour.
More: www.emacoustics.co.uk