Located at The Beach opposite the Jumeirah Beach Residence development, Bla Bla Dubai offers 20 bars, three restaurants and a beach club to the city's social community for a full day-to-night experience. Impressed by Pulse Middle East's work at venues across Dubai – including Nikki Beach Club, White Beach at Atlantis, LSB, Brass Monkey and Wavehouse – Bla Bla Dubai's management appointed the company to devise and install a complex three-zone audio system based around Powersoft amplifier platforms supplied by local distributor, ProLab.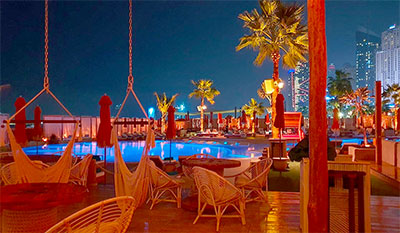 'In terms of the amplifiers, there aren't many on the market other than Powersoft that can handle this quantity of channels with ease,' says Pulse Audio Project Manager, Jacopo Fois. 'There were so many different zones and speakers, but with the ArmoníaPlus software it doesn't matter where you've assigned your speakers, you can see them as individual objects and adjust them without a moment's thought.
'This makes it very easy to return to the project later on to make adjustments, and for remote management too. You don't have to find all the schematics and drawings and figure out what's connected to where, you just open the file, go to the speaker and do what you need to do.'
Although Covid-19 restricted the number of workers it was possible to have on-site, the team also ensured appropriate safety measures further reduced the risk of anyone contracting the virus. Here, the ability to work remotely on the Powersoft platforms was of benefit to the smooth running of the install
'The monitoring tools in the amplifiers also make it very easy to manage such a massive system and troubleshoot issues when they arise,' Fois says. 'If there's an issue with a particular speaker or speaker line, for example, it's very simple to connect remotely, navigate to the speaker, check its signal and impedance graph, and identify the problem in a matter of minutes, without setting foot in the venue.'
Powersoft products used at Bla Bla Dubai are distributed between three A/V rooms. In the first, Pulse installed 13 T604s, a Quattrocanali 2404 DSP+D, a Quattrocanali 1204 DSP+D and a Duecanali 804 DSP+D, while the second room's system required four T604s, two Quattrocanali 2404 DSP+D units, a Quattrocanali 1204 DSP+D, and a Duecanali 804 DSP+D. In the final room, Pulse deployed nine T604s, two Quattrocanali 2404 DSP+D and a T304 for stage monitoring.
'As there wasn't a high demand for touring products at the time, the flexibility of the T Series amps really helped,' Fois says. 'Obviously they're not designed for installation, but they still do a fantastic job. One nice feature was the ability to pipe control and Dante down one cable, which reduced the number of required network switch ports. With the sheer number of amps in each A/V room, this made a lot of difference between using one network switch in each compared to two.'
Fois cites further strengths that the more conventionally deployed Quattrocanali and Duecanali amplifier platforms' offer this kind of project.
'Power sharing is a massive convenience on a project like this, from specifying the amplifiers themselves through to installing and configuring them,' he elaborates. 'With a bit of help from the power-sharing calculator and a simple spreadsheet, it's easy to calculate the required quantity of amplifiers en masse, saving a load of time. In addition, we can be sure that we're not wasting any power on each of the amps, by balancing the load between the four channels and making sure each amplifier is handling an even load.
'No power is wasted and no amplifiers are overloaded, meaning a very cost-effective installation, both at the time installation and later down the line when it comes to maintenance, as we can be confident these amps are going to last for years.'
Despite the three A/V rooms being located throughout the venue to minimise cable lengths, some long runs could not be avoided. Thankfully, the Damping Control on the Powersoft units allowed Pulse's engineers to compensate, keeping a consistent subwoofer response throughout the venue.
'On such a large installation, the physical size of the amplifiers was also important to minimise floor footprint in the venue,' Fois says. 'This meant that we could fit all 144 channels – 175kW of potential power – into just three racks.
'Power efficiency is another factor, with such a quantity of amplifiers throughout the venue and different zones operating at different times, the very low idle power consumption saves significant power over time, which is good for the environment as well as the client's wallet. By the same token, an amplifier's heat efficiency is also significant, given that, in the Middle East, cooling costs can quickly add up.'
Pulse created a signal processing 'super matrix' for Bla Bla Dubai, with three Symetrix Radius NX series processors (one in each A/V room) serving as the core of audio routing throughout the venue.
'Setting the delays and gain in the supermatrix itself would be a laborious process, but the sleek user interface of ArmoníaPlus helped out with that,' Fois says. 'By mapping all the speakers onto a layout of the venue, delays and gains were set for each individual speaker, for each set of delays (the venue was effectively tuned five separate times), saved into individual files, and then these parameters were copied into the supermatrix.'
The in-house staff at Bla Bla received training from Pulse on the Symetrix control system, which is how they will use with the system on a day-to-day basis.
'Overall, they're very happy with the audio installation, Fois reports. 'Unfortunately, there hasn't been much chance for a full-tilt shakedown of the venue due to the restrictions, so we're really looking forward to seeing the venue in full operation with multiple bands and DJs and a full crowd.'
See also:
Martin Audio and Powersoft join Dubai's Bla Bla club