Owner of Nashville's Eclectica Studio, Tim Dolbear has upgraded his monitor controller to an Audient Nero after seeking 'something that was reliable in both sound reproduction and longevity'.
Dolbear – also the studio's chief audio engineer – saw a 'null test' online, examining the difference between the Nero and a straight line cable. 'They completely nulled out which really intrigued me,' he says, adding. 'The sound quality is absolutely first rate and the routing is wonderful.'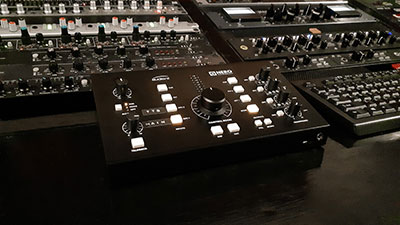 Dolbear has been in the studio business for more than two decades as a producer, mixing, mastering and recording engineer. He's worked with Grammy winners and indie artists, and his records receive airplay worldwide. Satisfied customers include Tony Harnell (TNT, Starbreaker, West world, Skid Row), Jamie Oldaker (Eric Clapton, Frampton) and Larry Thompson (James Brown, Otis Redding).
Working in both the music and the film and video postproduction world, Dolbear has built up a range of equipment to serve him over the past 22 years. 'On the music side, which is where most of the gear that you see in pictures of our studio get used, we use preamps from Great River, Manley, SSL and, of course, Audient. I work exclusively in a Sequoia DAW and have since 2002 and we mix in the box.
'Our mix bus then leaves the computer and travels through our analogue mix bus processing. Our analogue mix bus contains Mytek converters feeding a Great River MAQ-2NV Mastering Equalizer, into a Manley Mastering Edition Variable Mu Compressor with TBar Mod, into our modified MCI JH110B quarter-inch tape machine which has API 2520 op-amps on the in and outputs. We print to quarter-inch ATR Tape at 15ips. On the film side, all of our work is done inside Sequoia, and we mix stereo and 5.1 surround.'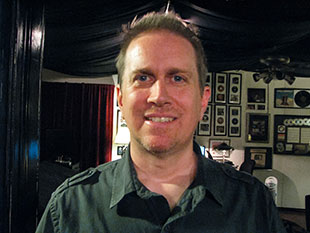 Dolbear underlines that the monitoring system at Eclectic Studio starts with a professionally designed room. 'Stereo D/A conversion is all done by Mytek converters feeding our Nero controller, which handles all of our different routing needs for the many different monitoring set-ups we have. The Nero also handles the various talkback and talent talkback duties.'
Dolbear likes to use Nero's routing capabilities a little differently: 'We basically use the Nero as a seven output monitor controller with multiple inputs,' he explains. 'We have the normal stereo signal from the Main Mytec D/A feeding our Neumann monitoring, as well as our midfield mains, it also feeds our Crimson Audio headphone amp and some Bose computer speakers. The Nero also sends our talkback mic signal to various places that we need it to go. We also have our talent talkback mic from the live room coming in on a different input and going out to a separate set of speakers on their own volume control via HP out 2.'
Dolbear's clients come from all corners of the world to work with him. 'I had a label in Seoul, South Korea, fly an artist to work with me to record vocals and then have me mix and master the project. They flew in the vocal producer from New York City and the producer from Canada.'
While his long list of glowing testimonials is its own recommendation, Dolbear has just finished working on Byron Nemeth's new single 'You Know It's True', and has also mixed the new album Walk Alone from pop/rock outfit, the CK Baker Band.