With a CV that includes work with artists such as Elaine Paige and SK Shlomo, and regular in-house work at Ronnie Scott's and the Royal Albert Hall, front of house engineer Matt Gush has built an impressive track record since relocating to the UK from his native South Africa in 2007. Most recently Gush has been sharing his skills with Biig Piig, the stage name of fast-rising Irish singer/rapper Jessica Smyth, on a UK tour supporting Glass Animals, for which he relied on an Allen & Heath dLive system supplied by Production & Touring Ltd.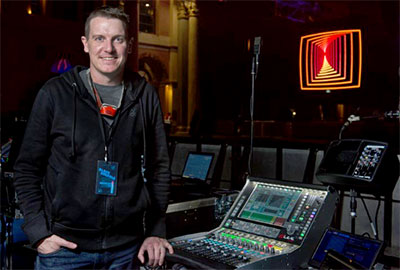 Gush's set-up for the Biig Piig tour – including a sold-out show at London's Alexandra Palace – comprised a dLive C1500 control surface and DM0 MixRack, and three DX168 expanders and ME-1 personal monitoring.
The set-up is unusually extensive for a support act, as he explains: 'On stage, we have a playback rig running Ableton Live – which is doing a small amount of vocal processing – and ten channels of track playback, as well as keyboard audio. That's taken care of by one DX168, which also drives the pair of IEMs we have running as a main and spare.
'The other two DX168s are daisy-chained; one sits next to the drum kit, taking about 11 channels of drums and the second takes in sax, guitar, BV mics and Jess' lines from FOS. The C1500 is fitted with a Dante card that takes care of multitracking for virtual soundchecks.
'The whole thing can be operational within half an hour of parking up the van, and we've done festival changeovers from the previous band finished to us done with line check within 15 minutes. It's incredibly fast to deploy.'
Gush credits Billie Eilish's FOH engineer, and long-term dLive fan, Drew Thornton's video tutorials for convincing him of the suitability of the system for Biig Piig. 'During the pandemic, I got stuck into Drew's YouTube series, and the versatility of the platform in terms of both hardware and software struck me as really innovative, and a good fit for an artist growing as quickly as Biig Piig.
'It's been a fantastic platform to build a show on, with incredible flexibility in its scene recall, surface layout, and some fantastic sounding processing options – the Source Expander is absolutely gold, as are the range of compressors on offer, and the Dyn8 has found its way on to so many things. It's been a remarkably easy-to-learn system and I've found it incredibly stable.'
More: www.allen-heath.com