Danny Wimmer Presents (DWP) music festivals were staged from September through November in the US – major multi-day events that included Mansfield, Ohio's Inkcarceration held outside The Shawshank Redemption's Ohio State Reformatory, Louder Than Life at Louisville's Highland Festival Grounds, Aftershock in Sacramento's Discovery Park, and Daytona International Speedway's Welcome To Rockville. All called on Denver's Brown Note Productions (BNP) for sound reinforcement based around L-Acoustics K Series loudspeaker systems.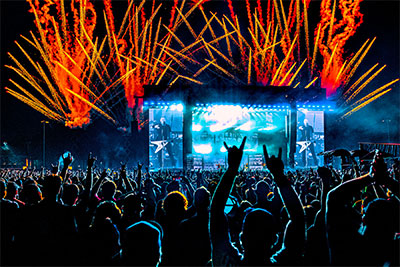 According to BNP President Ryan Knutson, three of the four festivals featured a dual main stage set-ups, with similar systems used for each. Their main arrays comprised six K1-SB with a dozen K1 over six K2 downs per side, with eight KS28 subwoofers flown in a cardioid configuration behind each main. Thirty-three additional KS28 were spread in groups of three across the lip of each stage for additional low-frequency punch, with 12 Kara positioned on top for front fill.
Out fill used eight K2 flown over three Kara boxes per side, while four delay towers – two per stage out in the audience – each featured 15 K2 boxes combined with three KS28. Power and processing for the twin stage systems were handled by 126 L-Acoustics LA12X and 12 LA8 amplifier/controllers.
'Although we've had Brown Note bring in L-Acoustics for festivals like Louder Than Life in the past, we really upped the ante for 2021,' says DWP Director of Event Production, Les Targonski. 'Both main stages this year had full K1 rigs that ran simultaneously. We created a very wide wall of sound, with each stage having its own stereo pair of delays. Since we were hosting two nights of Metallica for three of our festivals, I felt the need to give more thought to the delay plan.
'My original idea was to build two layers of delay towers, with two towers per layer – one pair at 250ft from the main source and the second at 400ft. But after working closely with Ryan and the rest of the Brown Note team, L-Acoustics Soundvision software showed us that we would be more effective having a single layer of towers with a longer box count that provided full and even coverage all the way to the back, which was beyond 600ft. Since Aftershock and Welcome to Rockville also boasted two separate main stages, this became the audio model that we used for the rest of the year.'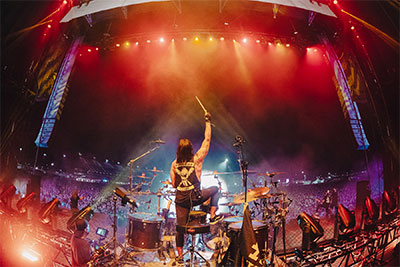 Targonski identifies coverage as among the greatest challenges at huge festivals: 'This is not to be confused with level,' he says. 'Loud does not necessarily sound good, but proper speaker coverage does.
'The reality is that not all mix engineers are built the same, and we can't control how they mix. Some folks get intimidated by the capabilities of a large application PA, or they tend to mix for their ear, not for the patrons. This is why we emphasise the importance of coverage of the full frequency spectrum. We want every patron to feel the experience. It also helps to have a systems engineer that will walk the venue and make adjustments to components that the front-of-house engineers might not pay attention to.
'The combination of the Brown Note team and L-Acoustics has afforded me the ability to build a trusting relationship with way too many production teams to name,' he continues. 'One thing that really resonates with me is that when an artist's production manager emails or calls to do the "advance dance", they rarely take the time to look under the hood to see what engine we have. Reputation is everything in this industry. If you're doing it right, people will notice, and they have.'
Knutson says that having the right team and tools makes all the difference. 'The overall clarity, impact, and flexibility of K Series give us a chance to offer guest engineers a great starting point. 'Our job is just that – to give everyone a quality platform to start from in these stressful festival situations where you have no time, and before you know it, you're already loading out. L-Acoustics, with its signature sound and processing tools, makes it a real joy for our teams to deploy these systems.'
For DWP concertgoers in VIP sections, these were covered by two intimate L-Acoustics systems – an A Series rig comprised of two A15 Wide and two A15 Focus enclosures paired with four KS21 subs and powered by two LA4X and a Syva system made up of two Syva, two Syva Low, and two Syva Subs, also powered by an LA4X duo.
'One of the hurdles at Welcome To Rockville, in particular, was that the VIP space sat off-axis of the main arrays,' Targonski notes. 'We were able to achieve success by supplying the VIP section with its own stereo pair with subs to boot. No complaints there, right?
'I respect the fact that the L-Acoustics team periodically peeks behind the curtain to see what we are doing over here. Let's be honest, rock music doesn't get a great deal of attention these days, and when we get the opportunity to show off our shiny toys, it feels really good. There are some very talented individuals that live in this genre, and L-Acoustics has long provided the tools for them to hone their craft. And for that, I say, thank you.'