Among Russia's many cultural institutions, the multifunctional Palace of Culture 'Kapotnya' in Moscow and the Polyarnye Zori Palace of Culture in the far north city of Polyarnye Zori were opened in the 1970s to offer leisure activities, introduce residents to creativity and art, and preserve national and cultural traditions that support the development of social initiatives. L-Acoustics Certified Provider Distributor for Russia, Sonoruss, recently installed L-Acoustics A Series in both centres to bring quality and versatility to their sound systems.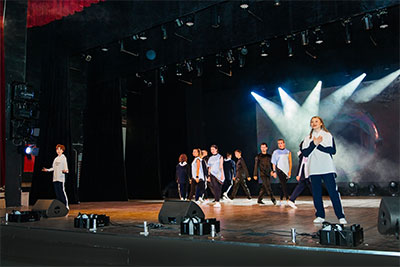 'All Palace of Culture venues are by nature multifunctional, therefore the systems that we propose need to accommodate anything from theatre shows, festivals and music concerts to masterclasses, lectures and citizen gatherings,' says Sonoruss CEO, Igor Verkholat. 'While the mission may be the same, each of these venues has unique challenges and objectives. Using Soundvision, an essential part of any L-Acoustics design workflow, we did electro-acoustic simulations and mechanical calculations to develop a sound system that met both design targets.'
For the Polyarnye Zori Palace of Culture, the main requirement was to provide uniform coverage across the hall, which includes a low stage and boxes that accommodate lighting along each side of the auditorium. A left/right system with no front fill was deemed the optimum solution. The main installed system comprises three A15 topped with two KS21 subs with four X12 cabinets used as floor monitors for the artists on stage. 'Panflex allowed us to adjust the sound directivity of A15 to exclude the lighter boxes from the coverage areas,' says Igor Novikov, Sonoruss Technical Director.
Working with integrator Matrix Engineering, Sonoruss performed electro-acoustical calculations and final tuning of the system. Both teams developed a complete audio solution perfectly matched to the venue's specific architectural attributes, delivering flexibility for any type of show or event.
'In February, a grand opening concert took place with both artists and audience enjoying uniform, crystal clear sound, which reached every seat in the hall,' says Verkholat. 'We received amazing feedback from the technical team of the City Palace, and the audience and the artists. The Head of the Regional Ministry of Culture was also impressed by the audio upgrade, stating it would be instrumental in helping to bring more high-level shows into the venue.'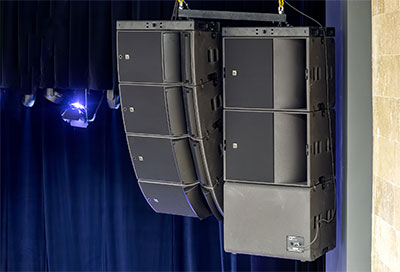 Similarly, renovations at the theatre and concert hall at Moscow's 'Kapotnya' saw Sonoruss and Theatre Techniques and Technologies TTTPro) install a new L-Acoustics sound reinforcement system.
'Here, we were also tasked with designing a comprehensive and reliable sound reinforcement system that would provide uniform coverage for a wide range of activities for the 530-capacity hall,' explains Verkholat. 'Once again, we used Soundvision to determine the exact location of each cabinet to ensure uniform coverage and imaging.'
The system here comprises left/right hangs of three A15 Focus and one A15 Wide, each flanked by a hang of three KS21 subs in a cardioid configuration. Six 5XT are integrated into the stage lip for fill. Eight X15HiQ stage floor monitors provide clear sound and speech reproduction during rehearsals and shows for the performers.
'Together with our partners, our team has once again been able to bring the renowned L-Acoustics sound quality to these two amazing institutions of culture, education, and entertainment,' Verkholat says. 'By working with L-Acoustics Soundvision, we were able to address the challenging aspects of each venue and deliver a bespoke solution that elevates the listening experience. These centres now have modern and reliable sound reinforcement for the plethora of art, music and corporate events that both places are known for.'
More: www.l-acoustics.com