Alongside involvement in the 5G Festival (5GF) project that has played a central role in the advancements in using 5G technology for the entertainment industry and the team supplying immersive audio for the public launch of Ed Sheeran's '=' album, 2021 saw the Sonosphere management team complete a company buyout with Duncan Bell joining as Commercial Director.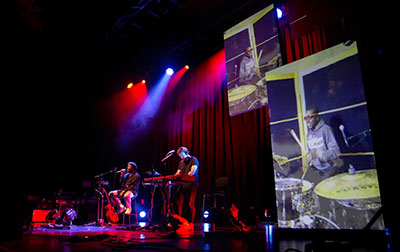 Looking toward 2022, the company anticipates multiple projects that are already in the pipeline, which include an interactive, multimedia exhibition that will open in Germany in the New Year, spatialising the work of a Saudi Arabian producer and composer, and an immersive audio installation at a major London venue.
'The November 5GF trials were a seminal moment for the entire consortium of companies involved in the project,' says Bell. 'The rest of the Sonosphere team have been involved in 5GF since it started in September 2020. Of course, I didn't come to the project until October 2021 and it's been incredible to see how the team has worked together to develop technologies, based around the 5G network, that has the potential to change the way the music industry works.'
Also central to the company's portfolio is the continuing partnership with Metropolis Studios, home of Sonosphere's Dolby Atmos certified immersive studio, and work to spatialise a selection of Amazon Music's back catalogue.
'Our Senior Mix Engineer Phil Wright's extensive knowledge and engineering experience across the live, broadcast and recording environments is key to our current and ongoing success,' Bell continues. 'He has worked across all our projects so far but, to accommodate the growth of the company, we are busy expanding the team to include the talents of well-known engineers Colin Walker, Leigh Davies and Charlie Morland.'
'Immersive audio has always been central to my vision for Sonosphere, but when we started the company, it was still a bit of a buzzword,' says Sonoshpere Creative Director, Jamie Gosney. 'Now, it's not only central to every conversation we have but it's the current topic across the industry as a whole. The level of interest in what we're doing is incredible and for a plethora of applications. Not everything we're doing is entirely new, but with the amazing team we have in place, now is the time for us to join the dots between music streaming for the consumer, the experience for the traditional live audience, the vast potential of hybrid events and the creative opportunities the emerging technology delivers.'
More: www.sonosphere.co.uk