Known as hoe of the first Franciscan university in the US, and as 'one of the five toughest places to play in college basketball', St Bonaventure University (SBU) in St Bonaventure, NY is one of the most beautiful campuses in the Northeastern United States. A recent sound upgrade at its Reilly Center saw AVL Designs install a new Danley loudspeaker system.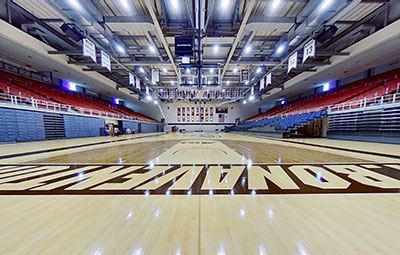 Due an upgrade to the facility's A/V system in early 2021, the 5,480-seat multi-purpose arena has since been equipped for high-quality music and voice for basketball games, graduation and other events. In addition, it has new digital consoles, signal processing and connections for sports and news networks.
'SBU contacted us with a request for proposal to design a new sound system for the Reilly Center,' confirms Seth Waltz of AVL Designs,' who then visited the venue along with lead designer Geoff Nichols.
'We needed high directivity and high-powered speakers for this project,' Nichols says. 'Each speaker was needed for a specific coverage area in a distributed cluster design.
'We also needed coverage to be designed with zoned software controls so they could use multiple orientations of the facility itself. We simulated many different arrangements with various manufacturer's products but arrived at Danley as the primary product.'
The project includes use of the SH family of loudspeakers, including the SH69 and SH96, as well as GH60 and DBH218 subs. Integration of the new installation was completed by Edward Simon & Co.
'While the pandemic caused a lot of issues in terms of component delivery, we managed to keep the project on track to be open for the 2021 basketball season,' says Director of Sales & Marketing, Skip Welch. 'One of the things Danley prides itself on is customer service, and we worked diligently to ensure we could meet their needs in time.'
'The installation, even with the pandemic-related delay, went smoothly, and St Bonaventure is extremely happy with their new system,' Waltz reports. 'Danley designs products that produce inherent sound quality as opposed to using DSP or filtering to fix problems. They sound clearer and more organic than many of the other products on the market today.'
More: www.danleysoundlabs.com