Leading A/V and technical production specialist Dushow recently helped deliver the world's largest concert, Global Citizen Live, as lead technical partner for the Global Citizen Liveevent in Paris.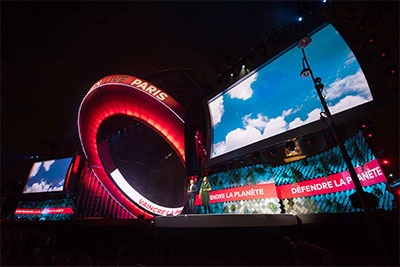 Serving as the main service provider for the broadcast event – which raised more than US$1bn to fight climate change, famine and vaccine inequity – Dushow partnered with its video-specialist subsidiary, Alabama, and sister company Magnum on a complete solution encompassing audio, LED, lighting, video, cabling and power. This tour de force was made possible thanks to the wider Novelty Magnum Dushow group offering organisers a single point of contact for the 20,000-person show.
Part of the Recovery Plan for the World – a year-long campaign calling on governments, philanthropists and the private sector to provide financial helping to combat Covid-19 – Global Citizen's Live 2021 was a 24-hour broadcast event featuring live events across seven continents. Screened live simultaneously from New York, London, Rio de Janeiro, Sydney, Seoul, Los Angeles, Mumbai and Paris, it was 'the closest thing to Live Aid in the streaming age', according to John Taylor of Duran Duran, who performed at both events.
Global Citizen Live was staged in the heart of Paris, taking over the Champs de Mars and using the iconic Eiffel Tower as its backdrop. Stéphane Nicolas of ULTD Evenements – who has worked on more than 30 shows on the Champ de Mars – was brought in as site director. Angelo Gopee, managing director of Live Nation France, served as executive producer for Live Nation, whose CEO, Michael Rapino, is a long-time supporter of Global Citizen, while Anne Jérôme, from AJ Com'Conseil, was delegated by Global Citizen as the event director to coordinate the Paris project.
'I didn't want hundreds of suppliers for logistical reasons,' Nicolas explains. 'I leant towards the Dushow Group as it was able to handle the majority of our requests, which meant I only needed to speak to a few personnel to ensure we were all focused on the same goal.'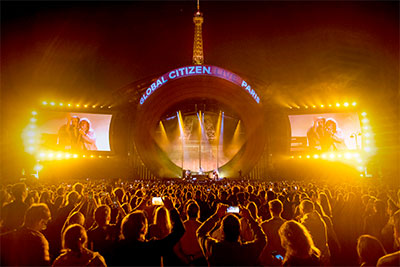 The fact that Global Citizen Live was being broadcast around the world also meant that needed a reliable technical partner was needed: 'Broadcast-focused shows are particularly challenging, because all the timings are of the utmost importance and you have to think about camera angles and what the director wants to see.'
'As this was primarily a broadcast event, resolution and screen quality were particularly important,' says Cédric Frécon, LED technician for Alabama, the Dushow group company on display duties for the Paris concert, which, along with the other Global Citizen Live shows, was broadcast on six continents, as well as livestreamed online. 'We needed the best screens possible to look good in front of the cameras.'
'It is a live show, of course, but we treated it as a broadcast event from the very beginning,' agrees Alexandre Capponi, director of Dushow's audio department and head of sound for the Paris Global Citizen event.
From a sound perspective, the main challenge for Dushow was the site itself, and specifically location in central Paris. 'Even with an audience of this size, the fact that we are in central Paris meant we were asked to bring the sound down to 99dBA, 3dB less than the national limit,' Capponi says. The sound team was also prevented from using ground subs, 'so, except for the front fills, we had to hang the entire system'.
'The Meyer Sound PA system comprised left and right hangs with clusters of 16 Leo and 12 1100-LFC subwoofers, while each of the four delay towers called on 12 Lyon and six 1100-LFC', adds Capponi, who explains that the delays had to be positioned far enough away from the stage that they wouldn't appear in the broadcast.
Stéphane Roussin, director of project management for SETE, the Eiffel Tower operating company, explains how the iconic Paris landmark also played its part in Global Citizen's fundraising efforts: 'The tower doesn't have a fixed-install AVL system apart from the architectural lighting with sodium lights, and Magnum had to install lighting gear on the side facing the Champ de Mars.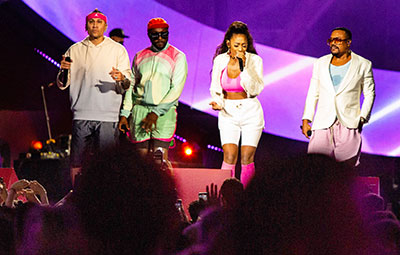 'We did something that we very rarely do, which was to allow the event to control the lighting, so that the lighting evolved as the event unfolded' he adds, 'The Eiffel Tower actively participated in Global Citizen Live and really added to this amazing project.'
Stage manager Frédéric Hamonou says the fact that nearly everyone working on the event came under one corporate umbrella (the Novelty Magnum Dushow group) made his job 'so much easier, in particular in terms of communication'.
'All information is centralised, and it's much easier and faster to find solutions,' he continues. 'We had a specific request from Christine and the Queens, who wanted to have a 48m line of [GLP] JDC1s. This took up the entire length of the stage, so we had to adapt to the short set changeovers between artists. We created interconnected skates under the JDC1s, allowing us to quickly draw back US$24m worth of lights from each side of the stage.
'This is a great example of how easy it was to work with Dushow – we only had to talk to three or four people and were able to put the skates in place very quickly and simply. Everyone listens to each other and we are able to make things that really work.'
Global Citizen raised more than US$1.1bn in commitments to fight extreme poverty, as well as securing pledges for in excess of 60m doses of Covid-19 vaccines for developing countries and 157m new trees to be planted around the world.
Speaking after the show, Anne Jérôme, event director of Global Citizen Live Paris, praised Dushow and the wider French team for their hard work, saying Global Citizen was thrilled 'by the incredibly smooth organisation' of the Paris event. 'They are amazed by the work done by the French teams,' she told the Paris event's partners. 'You can be proud of your professionalism, of our French touch, of our savoir recevoir et savoir-faire à la française…
'I know that setting up a project of such magnitude in such a short time, almost completely remotely and with so many people involved, wasn't always easy. But we have succeeded in creating an event that will leave a mark in people's memories after 18 months of a global pandemic, and which will contribute to spreading word of this incredible charity, Global Citizen, beyond their borders.'