Widely regarded as Pink Floyd's most faithful tribute band, The Australian Pink Floyd Show (TAPFS) 2021 tour of the UK proved another tour de force – 28 dates across the country rescheduled from their original 2020 slots. The final two shows took place at the Birmingham Utility Arena and Glasgow's SSE Hydro, where ticket demand was so high that a large number of extra seats were sold at both venues.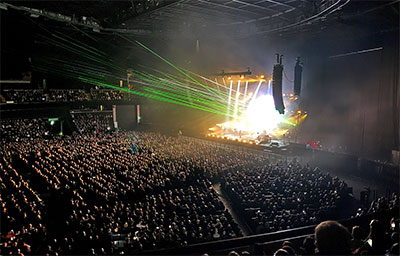 As on previous UK TAPFS tours, the sound system was provided by Capital Sound, drawn from its Outline inventory. The system configuration through most of the dates comprised LR main hangs of 14 Superfly and three Mantas 28 (downfills) plus side-hangs of two Superfly and six Mantas 28s each, with 12 GTO-Subs and six LIPF-082 dedicated lip-fill speakers. The system was powered and managed by Powersoft X8 amplifiers and Outline Newton processors.
FOH was manned once again by Trevor Gilligan, whose first use of Superfly was on the TAPFS UK tour in 2018, when he noted, 'this rig has reached a new level of live sound, from small rooms to large rooms it simply does its job. It's very solid, great coverage, it creates an image that's right in front of you. I am using much less left-right EQ and when we do a very big room and we take the volume level up it all goes up together – you never get the sub and hang difference that you can with other systems.
'As far as tweaking things, just a bit more EQ I think,' he now adds, 'especially in the upper midrange but all in all Mark (Edwards, System Tech) does a blinding job setting it up and EQ-ing it, then I just use it and it's great.'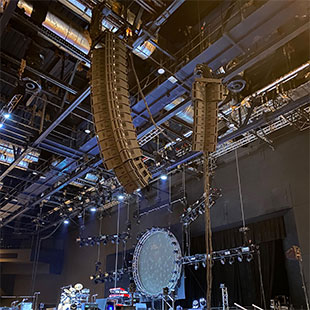 The strong ticket sales in Birmingham and Glasgow required a change of system to maintain the power and coverage needed for much bigger rooms. At these venues Outline's GTO C-12 was brought in for the main hangs while the Superfly moved to the sides and a further six GTO-Subs were added.
'When we used the bigger box it was very nice indeed, my mix was just the same but I didn't have to push things as much and the low end of the box sounded easier, Gilligan says. 'Also, we noticed that as you went between the Superfly outer hangs and the C-12 you couldn't tell where one ended and the other began as it works so well together. It was just great and filled the Hydro in Glasgow easily.'
'The Australian Pink Floyd Show has some critical needs – it needs a scalable system, the flown system has to be lightweight and the truck footprint needs to be as small as possible,' adds Tom Gardner was one of the PA techs on the show. 'The Superfly/Mantas system ticks all three boxes. A system comprising six GTO-Subs, 32 Superfly, 18 Mantas and six lip fills plus amps and trunks all fits into a 12ft space on the truck. Also, the light weight of the boxes allows us to get eight Superfly and three Mantas on a single 500kg point, enabling us to get maximum coverage within the weight limitations. Whether flying 11 or 17 boxes it's incredibly quick and simple – the longest part of flying the box is hooking up the CA-Com connectors.
'The Superfly/Mantas combo dealt with the challenges of Aussie Floyd incredibly well, especially with a Newton processor and 12 Powersoft X8s on the front end. Integration between the two devices worked fantastically well over Capital/Solotech's Dante digital MTP infrastructure.'