The Bazar is a unique space inside the Krasnaya Polyana resort in Sochi, Russia, housing a restaurant, nightclub and karaoke bar. The nightclub music programme extends to jazz performances and stand-up comedy, among other entertanment. Russian distributor Aris devised the audio for the venue, which included isolation from external noise, isolation between the Bar and Karaoke areas, and from adjacent buildings. Key to the sound system itself were a selection of RCK loudspeaker systems.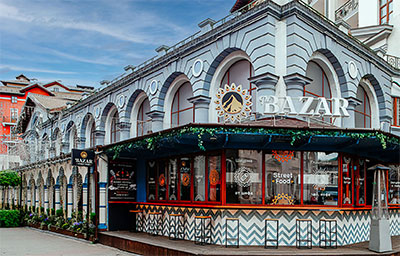 Evgeny Shuev, Head of Aris' Bureau of Acoustic Researches was responsible for system design and acoustic simulation, with fellow acoustician Vasily Aleshkin responsible for sound insulation (measurements and calculation). Together they handled the system design and simulation in accordance with the international ISO 3382-1:2013 standard as well as the domestic GOST R ISO 3382-1:2013 standard.
'The average reverberation time in the bar zone was 1.5s, and in the karaoke hall 1.0s, which exceeds the standard values,' Shuev says. 'The surface of the walls had smooth, sound-reflecting surfaces causing an audible echo in the rooms. To address the room acoustics, it was necessary to reduce their boominess and attenuate the levels of discrete sound reflections from the walls, leading to the formation of audible echoes.
'After our simulations, we expect a reverberation level in the bar zone to decrease to an average value of 0.73s, and the karaoke hall to an average value of 0.6s to 0.7s. The sound pressure level in the listening area is not less than 100dB with ±3dB frequency uniformity, a musical clarity coefficient around C80 within 6dB ±2dB, and speech intelligibility coefficient STI in the range of 0.6 to 0.8.'
Aris selected active RCF TT+ loudspeakers and Sub 8003 low-frequency support for the bar zone, with 4Pro 1031-A boxes, Sub 905-AS II passive speakers and Monitor 33Ts for the karaoke zone. The system is managed remotely via RDNet software.
'We are well pleased that our simulation in Ease software was 97 per cent aligned with actual measurements,' says Aris Head of Sales, Alexandr Shamray. 'Both data provided by RCF and the accuracy of our design matched perfectly from the first steps. As a result, the customer is very satisfied with the new Bazar sound, which is running smoothly every day.'
More: www.rcf.it