With the ongoing resurgence of jazz in China, the cosmopolitan port of Guangzhou has become a major hub for the scene, aided in no small part by the festival held annually in the city. This year's Guangzhou Jazz Festival took place at the Guangdong Xinghai Concert Hall during November, and featured headline performances from renowned artists Li Quan and Cheng Fangyuan, plus sets from nearly 40 acts across the spectrum of jazz music, spreadover three days and seven concerts.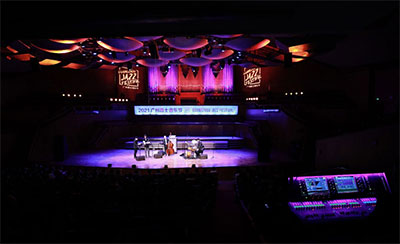 EZPro was responsible for all aspects of system design, installation, commissioning and mixing for the festival, and with reliability, ease-of-use and sound quality the primary considerations, they entrusted a dLive system with mixing duties. At FOH, the company deployed its flagship Allen & Heath dLive S7000 Surface.
'As well as the granular scene system, which is crucial for festivals like this, Talkback Groups in combination with SoftKeys really helped a lot,' reports EZPro Senior Director of Marketing, JI Xiang. 'With a single press on a SoftKey, I can quickly switch my talkback microphone's destination to stage monitors, OB studio, FOH or any combination of the above. We also used an iPad running the dLive MixPad app which makes the sound engineer's life easier, especially mixing for the musicians on stage.'
Onstage, EZPro opted for a DM64 MixRack – using Allen & Heath's 96kHz XCVI FPGA core – to deliver 128 input processing channels and 64 phase-coherent outputs, all with ultra-low 0.7ms latency. Additionally, a Dante 128x128 card was fitted in the DM64 to feed a Powersoft T304 amplifier and EAW NTX loudspeaker system. To minimise the number of cable runs required between FOH and the stage, EZPro took advantage of spare bandwidth on the redundant gigaAce connection between the Surface and MixRack to tunnel control data between a laptop running EAW Resolution and Powersoft ArmoníaPlus at FOH, and the amplifier and loudspeakers.
'I have worked on tour with Li Quan for a long time, and the sound quality of this system is one of the best I've heard,' says tour engineer, Hu Shijun. 'dLive is powerful, but also very simple to operate with all general settings easily available on the Surface and iPad for quick access. In addition, I really like the ergonomics of the surface. It allows me to view the touchscreen and the stage almost at the same time. I hope to have more opportunities to work on dLive systems in the future.'