Designed by live event touring professionals, the Li.LAC Microphone Disinfector is a 19-inch, 3U-high rackmount unit aimed at live entertainment venues, tour sound companies, conference centres, houses of worship, corporate and government meeting rooms, schools and universities, and studios.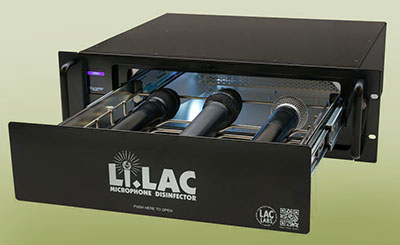 The Li.LAC Microphone Disinfector offers a quick, simple and effective means of cleaning mics using controlled exposure to ultraviolet light (UV-C), which is reckoned to kill over 99% of bacteria and viruses on surfaces, metal grilles and the windscreens underneath. It can be located in an equipment room where staff or volunteers can disinfect microphones while performing other duties, or packed in a road case to travel with other equipment.
'Its simple operation speeds a job that's grown even more important in today's world,' the company says. 'Just insert up to three hand-held microphones or several lavalier or headset microphones, headsets or beltpacks, close the drawer and press Start. Disinfection completes in 12 minutes or less, allowing a full complement of microphones to be processed in a typical working day.
'Because you care about your own staff as well as your clients, we've designed the Li.LAC Microphone Disinfector to work much like a microwave oven. It will not operate unless the drawer is fully closed and it will switch off as soon as the drawer gets opened, thus maintaining operator safety at all times while assuring users of a complete disinfection process.'
More: www.lilac.works