Set in nearly four acres of tree-shaded land outside of downtown Austin, Texas, the Meanwhile Brewing Co is one of the city's premiere music venues. The one-year-old hotspot also touts a versatile outdoor event space that has given Austin and Texas musicians paid performance opportunities and residencies throughout the past year – a year when live performance gigs were hard to come by.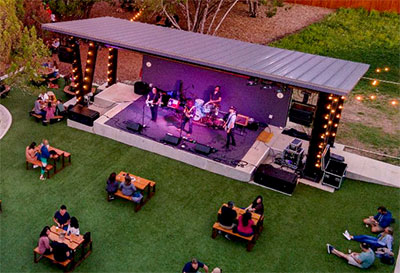 The Meanwhile stage uses Allen & Heath SQ-6 and 96kHz DX168 portable expanders as part of an adaptable lighting and sound system able to meet the needs of events from DJs to singer/songwriters to full-on rock bands. The venue's capacity sits at around 1,000 people, with technical design executed by Meanwhile's Production Manager, Jamie Wellwarth. In addition to his role at Meanwhile, Wellwarth is a 15-year veteran at Nomad Sound and has held down key audio, tour and production manager roles for artists including Janes Addiction, Social Distortion and The Revivalists.
When it came time to select a world-class console for Meanwhile, Wellwarth chose the SQ-6: 'SQ has been a real game-changer for venues like Meanwhile,' he notes. 'There aren't many consoles out there that strike the right balance of power and customisation with workflow yet remain easy enough to operate for engineers of all levels. Once you throw in the solid build quality, great preamps and the support of all the folks at Allen & Heath, there isn't really the need to look anywhere else.'
The SQ feeds a stereo mix to a Neve MBP master buss processor and then to a Nexo PA of Geo-S12 and RS18 mains. Sporting a three-tier, all metal chassis and an extruded aluminium light bar, the SQ-6 provides 48 channels and 36 buses at 96kHz audio for the venue. Using the onboard SLink connection, audio can be routed as needed to and from a pair of DX168 portable expanders.
'The work that Jamie and the Nomad crew put into Meanwhile Brewing Co is really amazing,' says Allen & Heath USA Marketing Director, Jeff Hawley. 'SQ was designed to check all the boxes for these sorts of applications and it is cool to see more and more world-class venues like Meanwhile turning to SQ as they build out new spaces or aim to upgrade existing or even historic spaces. This particular project was extra special, as the Meanwhile team shared the love with musicians, technical staff and music fans when times got tough.'
More: www.allen-heath.com