The Brudenell Social Club can legitimately claim cult status within the Leeds music scene, having hosted acts including the Kaiser Chiefs, Franz Ferdinand, Tom Jones and The Smiths, in addition to a steady stream of local talent. It began life as a working mens' club in 1913 and still holds those beginnings close to its heart, offering a lounge and games room, and hosting local photography, film and origami groups, as well as its two large concert rooms. It now a;so boasts two DiGiCo Quantum 225 mixing consoles.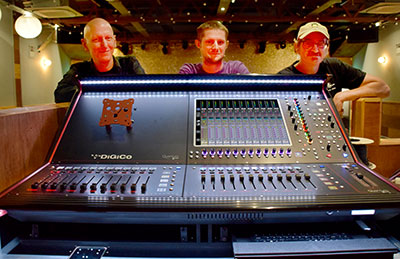 With a procession of engineers passing through its doors each year, its faithful console of ten years had seen its share of wear and tear, and owner Nathan Clark knew it was time to secure a replacement. He turned to SSE Audio…
'The Brudenell Social club is a very busy venue,' says SSE Audio's Ryan Thomas. 'It's located within the student area of Leeds and, in 2019, it hosted two gigs a night for a significant portion of the year, so the gear gets worked very hard. SSE's relationship with them started ten years ago when they purchased a console from us, and we later upgraded Venue 1 by installing an L-Acoustics PA system in there. Then, five or six years ago, the club built Venue 2 and we installed a d&b audiotechnik system for them.
'I took a DiGiCo Quantum 225 to the venue and they loved it,' he continues. 'When we installed the consoles, we also ran a training session for the house engineers, done by our Live Sound Specialist James Baker, who's recently joined us after many years touring. The consoles were supplied in SSE-designed flightcases which include some design tweaks that originate from our own touring work – that highlights something that the client, Nathan [Clark], really appreciated, which is the value that SSE adds to projects like this – it's not a sale transaction only, it's the relationship side of it, too. Another example is that we'll provide loan consoles while we do annual services on the new ones.'
'The house engineer had been holding out for – and roughly budgeting for – another console, but it wasn't available when needed,' he adds. 'In the event, the club was able to buy two Quantum 225s, with all the racks and snakes, for not much more outlay than he was hoping to spend on the console he'd been thinking about.'
Each Quantum 225 was supplied with a DiGiCo MQ-Rack, giving 48 inputs and 24 outputs onstage, linked by a Madi digital snake.
'The DiGiCo 225 ticks all the boxes for the Brudenell – it's brand new on the market, features DiGiCo's latest Quantum Engine and even includes the onboard Spice Rack effects processing,' Baker says. 'It can handle up to 72 channels and 36 aux/sub group buses, so has ample channel count for their needs.'
'I purchased the consoles because that's what the engineers asked for, so I've invested in something that's universally accepted,' concludes Brundenell owner, Nathan Clark. 'We have hundreds of engineers coming through here every year and they need to be comfortable with what we've got. The last console worked really well for us and lasted for ten years, but things have moved on and we need to change with the times. The Quantum 225 has certainly set us up for the future.'