Located in Marietta, Georgia, North Metro Church is an inclusive house of worship, where dynamic music is a key part of services. Ranging from quiet background ambience to full-on praise rock, the installation of a sound reinforcement system that could reproduce music at all levels with equally high quality was key.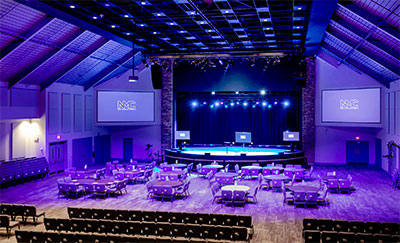 Having installed audio systems in many houses of worship, A/V specialist Austin Sound Design came in to handle the sound provision knowing that an Alcons pro-ribbon solution was its preferred approach to covering the large width, depth and height of the North Metro Church sanctuary.
'I attended a demo hosted by Alcons' David Rahn and Scott Hough a few years ago,' says Austin Sound founder, Chris Austin. 'I have always appreciated ribbon technology and was immediately drawn to the superior performance of the Alcons pro-ribbon systems. After years of listening to various premium systems, in both install and live music applications, I knew that Alcons was next generation technology and I wanted to be part of it.'
The brief from North Metro Church was for a high dynamic range, low distortion system with good coverage, clarity and articulation. 'The church was open to new ideas and brands,' Austin says. 'Once they experienced a demo of the Alcons 6.5-inch LR7 micro line-array system installed at the Greater Atlanta Christian Church in nearby Norcross, they were more than happy to invest in their own Alcons installation.'
Austin and his team installed 18 dual 8-inch bi-amplified high-output LR18/90 compact line-array modules, four triple 18-inch BC543i (install version) true carbon-fibre cone, very high-output cardioid subwoofers and four double 5-inch SR9 ultra-compact fill monitors. Power and control comes from five Sentinel10 (4x 2.5kW) and one Sentinel3 (4x 750W) amplified loudspeaker controllers.
'Our company prides itself on providing the latest in technology, and Alcons is a perfect anchor to that,' Austin says. 'The product line is very well thought-out and offers a wide variety of tools. We use them all and know that we can count on that consistent performance from every Alcons product.
'The installation North Metro Church is a real showcase for the church, Austin Sound and Alcons Audio. We anticipate using it as an example of what is possible from church production sound systems.'