Active at more than 20 locations across Thailand, the Nexus Christian Fellowship is a growing network of Christian churches that place live music at the heart of weekly worship. When work began on a new worship space in Bangkok – the third in Thailand's capital – Nexus enlisted Sonos Libra to specify and install a sound system capable of handling the full spectrum of modern worship requirements, but with the ability to be controlled by non-technical operators in day-to-day use.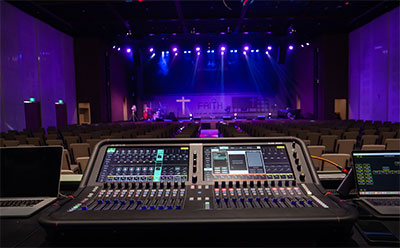 For the FOH system, the Allen & Heath distribution partner chose a 64-channel Avantis mixer fitted with Dante a card for digital split and live-stream feed, plus a Waves 3 card for external processing. The accompanying fully customisable Custom Control app is used to provide simplified control of the FOH system by non-technical operators, with a bespoke user interface ensuring core functions can be controlled by users of all capabilities.
The monitor position finds a 48-channel SQ-6 used to feed 12 stereo mixes the performers IEMs. Additionally, the performers can control their own monitor mixes via the SQ4You personal mixing app for iOS/Android. The SQ-6 is fitted with a 64x64 SQ Dante card, which is used for the digital split to the FOH system as well as providing a feed to the live-stream and recording room elsewhere in the church.
Onstage I/O is provided by a pair of DX168 audio expanders, delivering 32 analogue inputs and 16 analogue outputs, all via Allen & Heath's ultra-low latency 96kHz DX protocol.
'Houses of worship are not new to us, so we know how important it is that the system delivers high-quality audio for both speech and music,' says Sonos Libra CEO, Alfonso Martin. 'However, our approach to Nexus Church had a twist with the flexibility options added on – a Dante backbone at 96kHz that could be picked up and expanded to any of the other rooms within the building, Custom Control with easy-to-control presets for different functions and days, plus a Waves card for additional processing if required,'
'We have a lot of volunteers and non-technical staff who are tasked with handling high-performance systems, so the combination of Avantis, which has the in-depth functions for technical users, with the easy to use Custom Control App is a perfect combination,' adds Technical Manager, K Thom.
More: www.allen-heath.com