Built from the ground up, Carl Tatz has designed a new two-storey studio in Atlanta for audio engineer and sound designer Troy Hermes.
'I began talking with Carl in early 2019 about a purpose-built studio for my audio postproduction company Hermes Sound,' Hermes says. 'Carl's attention to detail in the design and finishing stages was nothing short of remarkable.'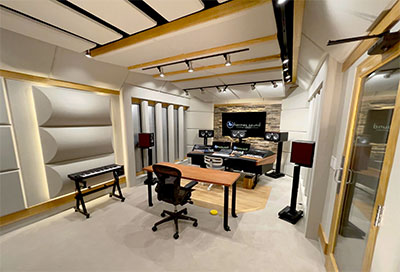 The new facility features a PhantomFocus 5.1 MixRoom pre-wired for Dolby Atmos, that encompasses a multichannel PhantomFocus System including PFM Ice Cube-12 Subwoofers, (accurate down to 20Hz) PF Monitor Stands by Sound Anchor, the PhantomFocus processor by Ashly, the Carl Tatz Edition Dual 15 Workstation by Argosy and a PhantomFocus eChair.
Carl Tatz Design Acoustic Lens diffusers by Auralex line the window and mirrored side of the MixRoom, virtually enlarging its acoustic volume.
A sound isolation booth and client lounge are located on the second story with glass walls overlooking the property. Custom Carl Tatz Design acoustic modules by Auralex are used throughout.
'The 5.1 PhantomFocus System Carl installed sounds amazing and lets me be 100 per cent certain that what I'm hearing is as accurate as it can possibly be,' Hermes reports. 'Whether I'm sound designing for the Hindenburg disaster documentary for the History Channel or mixing a 5.1 Christmas special for Fox, I can work with complete confidence that I'm hearing everything that is in the programme, not the room. I'm absolutely loving my PhantomFocus MixRoom.'
More: www.carltatzdesign.com
More: www.phantomfocus.com