Founded in 2004, the Zappa Group operates the Israel's leading live show chain of clubs under the name of the incomparable American music pioneer. From its first venue in Tel Aviv, the chain has grown to include clubs and outdoor venues in Herzliya, Jerusalem, Haifa ,Beer Sheba, Zappa Amphi Shuni and the Zappa live Park, all hosting top Israeli and international music acts.
Following a change of ownership, a new technical manager was appointed and a major move for all Zappa venues to install DiGiCo mixing consoles began. Supplied by Israeli distribution company, Gidron Levitan, the main Tel Aviv venue now boasts a DiGiCo Quantum 338, with Herzliya and Haifa upgrading to Quantum 225s, and the Jerusalem club continuing to rely on its SD9 for all live, private and business events.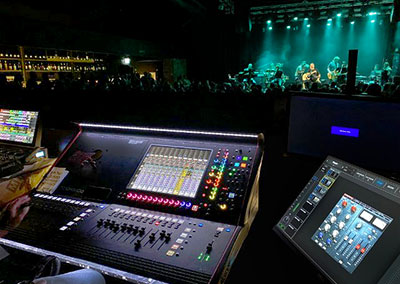 'Zappa's commitment is significant both for us and for DiGiCo,' says Eytan Gidron, co-founder of Gidron Levitan, and responsible for sales, planning and consulting, as well as technical support. 'With the majority of local talent and international artists playing at Zappa clubs across the country, it means that all their engineers will now be using DiGiCo consoles, making it the most accepted and approved console in Israel.'
Having recently moved to new and larger premises, Zappa Tel Aviv is now in its last stages of construction. Purchasing the Quantum 338 was a perfect opportunity to raise the standard of the group's flagship venue by integrating the latest technologies in power and connectivity into their new audio set-up.
'We wanted to install a system that is solid and future-proof and will last for many years,' says Itamar Bar-Shavit, VP of Production and Technical Manager at The Zappa Group. 'The Quantum 338 ticks all these boxes for us.'
According to Bar-Shavit, 95 per cent of those using the new Quantum 338 will be visiting sound engineers who usually handle monitors from the FOH console. In fact, the only venue that will have a separate monitor console is Zappa Tel Aviv, which has also purchased an SD9 to be used in its smaller room, and as a monitor console in the main room from time to time, while Zappa Jerusalem benefits from a new Quantum 225 to match the Herzliya and Haifa venues' specifications.
'Herzliya is using a DiGiCo SD12 temporarily until it takes delivery of its new Quantum 225,' Gidron says. 'Both in-house and visiting engineers are very happy with how the SD12 is performing and the additional features it has compared to the previous console, so they are excited about the prospect of working on the Quantum 225.'
True to Gidron Levitan's goal of providing the high-quality equipment that can handle the different and diverse needs of its customers, as well as offering service and technical support before and after it makes a sale, Gidron and his team have been providing training for those club engineers not familiar with DiGiCo.
'We feel privileged to be working with such an iconic venue family,' Gidron says. 'Zappa's name rings many bells in the heads and hearts of music lovers across the world. With the latest upgrade to DiGiCo, Zappa clubs are now fully up to date with the latest technological advancements and have systems that will last for many years to come.'
'At Zappa, we provide a warm welcome for the music industry in general and artists in particular, believing as we do in making Israeli and international music and performing arts of all kinds accessible to all our audiences,' adds Bar-Shavit. 'With our new DiGiCo consoles, we are able to continue with our ethos and produce memorable live event experiences that enrich Israeli cultural life.'
More: www.digico.biz