A landmark entertainment and dining address in central London for decades, 100 Wardour St was home of the legendary Marquee Club from 1964 to 1988 and subsequently host to several different eateries. In 2016 it reopened as 100 Wardour St, one of 43 restaurants, bars and one hotel in London, Manchester, Leeds, Bristol, Paris and New York operated by D&D London.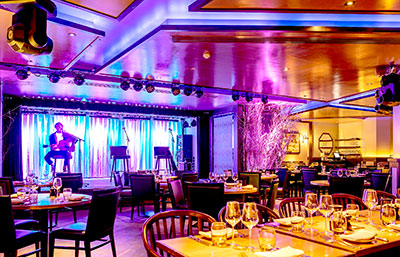 The venue incorporates a relaxed Bar & Lounge on the ground floor with the Playroom, a semi-private dining space for smaller parties, and a Restaurant & Club in the basement. Live music performance features in the basement Wednesday through to Saturday and, in a great initiative to promote original music, the Thursday's Originals event welcomes artists to play their own material.
In common with a majority of city-centre locations, 100 Wardour St is required to comply with strict noise emission regulations. Following an introduction by d&b audiotechnik, Autograph Sound was tasked with designing and installing a sound system that achieves the balance of being suitable for all styles of live music, but which is controlled enough that the regulations are met.
'The core deliverables for this design were, first, that it had to significantly improve the overall quality of audio to suit the high standards of the venue and, second, that it had to meet local authority requirements regarding external noise levels,' says Autograph Business Development Lead, Euan Mackenzie. 'That fact informed our equipment choices from the start, in terms of the new equipment we installed, how we installed it and how we reprogrammed the existing system controller.
'A good example of this is the d&b audiotechnik Yi7P loudspeakers we specified for the main LR system,' he continues. 'These models were chosen as they control the lower frequencies very well and reach 500Hz before being considered to have reduced directivity – that's a real help when aiming to keep audio within tight limits. As the space directly surrounding the stage is primarily performance based, we chose d&b E-Series as a complementary distributed system, with an E8 for the centre fill, two E6s for out fill and two more E8s for delays. This means that the main stereo system never has to be too loud as no customer is ever too far from a loudspeaker. A pair of d&b Bi6 subwoofers provide plenty of controllable low-frequency energy for the entire room.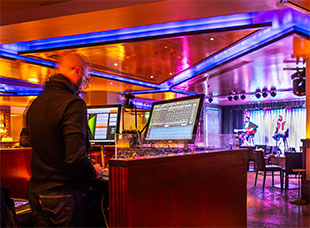 'We also repositioned one of the out fills from its original position to make it symmetrical with its opposite counterpart, which helped in controlling spill even further. Beyond the main system there are nine d&b 5S compact co-axial loudspeakers throughout the three restaurant zones, plus another in the bar. All the fixed loudspeakers are mounted on vibration-damping supports and we also supplied four d&b Max2 monitors for artist foldback on stage.
'd&b's own DSP-equipped amplifiers were the perfect choice for the loudspeaker system and we only needed four units in total – a single 30D powers the Yi7Ps and the Bi6 subwoofers while three 10Ds power everything else, including the stage monitors. We also supplied four Sennheiser in-ear monitoring systems, as using these also contribute to keeping the sound levels down while allowing artists to hear themselves.'
Autograph also repurposed and reprogrammed the existing system controller, not only to properly time-align the various elements of the new loudspeaker design but also so that the overall volume level of the system cannot exceed the limits laid down by Environmental Health.
'We approached Autograph Sound to improve the sound quality and the overall coverage in the basement club. In order to host international singers, our choice went immediately for a d&b audiotechnik PA system,' says Dan Veneri is the venue's Technical Production Manager. 'Euan, the project manager for this install, has provided a great design and great customer service, until now, we could not be happier with his support and service.
'The system is monitored and controlled by a custom made d&b R1 Software designed by myself and Adriá [Piqueras, audio engineer]. The coverage is completely even everywhere, the frequency response is phenomenally smooth, the vocal and musical transparency is astounding.'
More: www.autograph.co.uk