Alongside its primary role as an ice hockey and skating venue, Minsk Arena also hosts other sports events, concerts, conferences and forums. The arena also prides itself on its uptake of technology, including having being the first to install a cable roof system capable of loads of up to 120 tonnes, with special sensors monitoring cable tension 24/7. The venue also features an eight-faced plasma screen video cube, the largest in Europe. In September this year, the facility completed a large-scale renovation, which included a tour-grade audio system from L-Acoustics, installed by BelCultProject.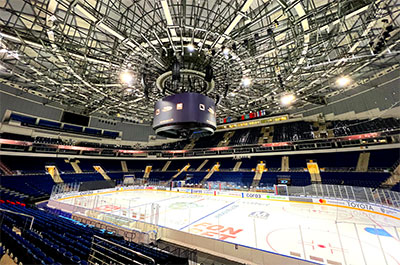 'The key challenge was to ensure the system can be used for big sporting events, such as ice hockey and ice-skating championships, and then, with minimal effort, be transformed into a full-blown concert audio system,' BelCultProject Chief Financial Officer, Yuri Mihailovski elaborates. 'When choosing the audio brand, we never doubted that it should be L-Acoustics, as the company is a market leader when it comes to sound quality, control and tuning, with its K2 solution being ideal for bigger venues and large-scale events, such as those hosted at Minsk Arena,'
Using Soundvision, L-Acoustics 3D acoustical modelling and loudspeaker system design software, the team designed a tender-winning system configuration that offers complete coverage throughout the hall and ensures every visitor gets the best sound experience. BelCultProject worked together with L-Acoustics Application Engineer, Sergey Becker, who travelled to Minsk especially for the installation and system configuration.
In additiona to delivering and installing the L-Acoustics system, BelCultProject also developed a new winch-driven automated rigging system and aluminium structures at the arena, as well as optimising the suspension points of the audio system. The final installation comprises eight K2 hangs positioned above the video cube and addressing towards left and right sections of the tribunes across four main sectors of the venue, with each sector having its own separate entrance. The A and B sectors are covered with four nine-cabinet K2 arrays, with a further four hangs of seven K2 for tribunes C and D . For ice hockey and basketball games a retractable structure is added underneath the screens, with two hangs of three A15 Focus facing the opposite ends of the Arena (C-D) as well as four A15 Wide hung in the middle and facing the playing surface.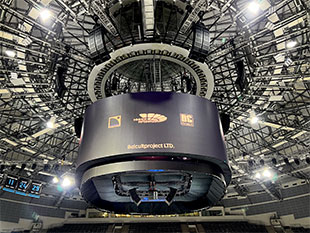 'L-Acoustics K2 resolved the key challenge of delivering optimum coverage across a wide range of events. It's also extremely rider-friendly, with no better solution found in any venue in the entire Republic of Belarus,' Mihailovski says. 'This is an important achievement for everybody involved – it keeps Minsk Arena at the forefront, with its new sound system fully capable of delivering the highest level of audio for any world sports championship, conference, or spectacular live music show.'
The sound system is already in use, and recently the Belarusian national ice hockey team kicked off their training camp here. 'Minsk Arena is definitely one of the most prestigious projects that BelCultProject has completed in our more than 20 years in business in the Republic of Belarus and abroad,' concludes Mihailovski. 'This particular project is exemplary when it comes to effective teamwork, both between us and the arena team, and the support we received from L-Acoustics has been outstanding.
'In the end, we were able to deliver a world-class audio solution, with clear and powerful audio that is perfectly distributed across the entire hall. We also ensured, together with Sergey, that the Minsk Arena technical team is fully trained on the new system and is comfortable deploying it for any kind of event. We are incredibly thankful to Minsk Arena and the entire team for the support and active participation in this project. It's simply incredible knowing that such an iconic venue is now equipped with the very best in sound, meaning it has increased marketability for event production and is future-proof for the many years to come.'