Renowned mix engineer Tom Lord-Alge has acquired a Solid State Logic Origin analogue mixing console following a recent move to his new home in Miami Beach. The purchase followed a demonstration of the desk that SSL asked him to present at the 2019 Namm Show using the multitrack recording of Steve Winwood's 'Higher Love' that Lord-Alge had himself mixed 35 years previously on an SSL 4000 series console.
'To be honest, there was no way I would have been able to get my old SSL 4000E in there [his new studio], so I thought it would be a great time to try the Origin. I didn't even think of purchasing anything else that was out there, because honestly, I'm an SSL guy.'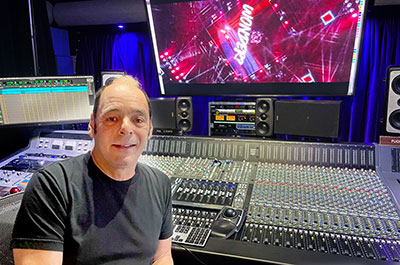 His mix room measures 15ft x 18ft, and was able to accommodate Origin along with two custom Malvicino side desks he acquired for patchbays and rack gear.
'When they delivered the console, me and one of my buddies lifted it out of the nice crate it came in and I thought, "wow, this is the first time I've ever moved a console where it could be done with just two guys". The best part about it is that it just plugs into a regular 120V outlet.'
Lord-Alge says certain elements of his new Origin remind him of his old SSL 4000E: 'Everything is laid out very similarly to the 4000, except the equalisation section on Origin is exactly where it should be – on the lower portion on the channel strip. This is important because you can change equalisation settings while you are sitting in the sweet spot. When you need to use the sends, they are right there just above the EQ section. Ergonomically, Origin was immediately comfortable, and it sounds great.'
For Lord-Alge, one of Origin's highlights is the centre section, which features the classic SSL Bus Compressor along with routing and monitoring controls and 12U of configurable rack space. 'The Bus Compressor on the Origin is the best version I have ever heard,' he says.
In one of the side desks that straddles the console, Lord-Alge also has several SSL 500 series units including VHD mic preamps, LMC+ compressors and SSL E Series Dynamics modules. 'Because I am a mixer, I make sure that I always have an external chain available for an overdub if I need it – just in case I am using up the whole console during a mix,' he explains. When he had two extra spaces in his 500 series rack, he also chose to include the new SSL Ultraviolet EQ 500 series unit: 'I love that one knob controls stereo left and right.'
With Origin, Lord-Alge is able to handle large channel counts with the console's 64 inputs, each with its own fader: 'I can do a stem for an entire multitrack by sending two passes through the buses,' he says. 'For instance, I will do 1-32 for my large faders in one pass going direct out, then flip a button on each module so I can have direct outputs for channels 33 to 64.'
He also likes Origin's 0dB button on each channel, which removes the fader from the audio path. 'I use this feature all the time when I am doing my fader moves. I will set the fader to where I want it to be, and then I can always hit the button again if I want it to go back.'
Lord-Alge is impressed with Origin's five-band EQ section, which is adapted from the 'black knob' circuit of the original E series consoles. 'The EQs sound like they should, no surprise there.'
At the moment, Lord-Alge is finishing mixing an album for a band called Rain City, which was the first opportunity for him to really dig into Origin: 'Everything that I've asked this console to do, it's done willingly,' he concludes. 'I pummel it with level, and I am shocked at how much it can handle. For me, the thing that is most important is that it sounds great and ergonomically there is no issue. I sat down at it and jumped right in.'
More: www.solidstatelogic.com