Playing everything from hip-hop to house, and hosting live music from trad jazz and funk to reggae, the Twelve After Twelve is a multilevel lounge in Washington, DC recently completed an extensive installation of equipment from DAS Audio.
The Babylon Group owner oversaw the installation of the new sound reinforcement system at Twelve After Twelve. The company worked closely with DAS Audio of America's National Sales Manager for Nightclubs and Hospitality, John Fiorito, who jointly devised a system to address the wide range of requirements.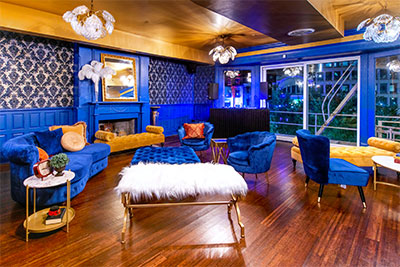 'Twelve After Twelve has multiple rooms, with different atmospheres in each space,' says company founder Beau Biabani. 'The space features five bars and an outdoor deck with a retractable roof with plenty of space to bounce between the four dance floors. The venue focuses on bringing in local talent and giving these artists the opportunity to showcase their work. By coordinating with John Fiorito, we were able to tailor the sound reinforcement capabilities in each space.'
The Red Room, which focuses on hip-hop, Latin, reggae, funk is now fitted out with eight DAS Audio Artec-308 full-range loudspeakers augmented by two Artec-508A powered enclosures, two Artec-306 enclosures, plus two Action-S18 passive subwoofers. Artec-308 enclosures are also found in the Champagne Room, which is geared toward private events. In addition to the four Artec 308 loudspeakers, there is a pair of DAS Quantum Series Q-10 compact subwoofers for low frequency support.
Twelve After Twelve's Green Room stages a combination of live acts and DJs, and is now fitted with Altea 700 series, E11even Sound, and Action series loudspeakers. The room uses two each of DAS Audio's Altea-712 enclosures, E11even Sound ES-10 loudspeakers, and E11even Sound ES-26 loudspeakers. For low frequency support, these enclosures are accompanied by four Action-S218 passive subwoofers.
Outside on the Deck, where house and techno are the fare, Fiorito and the team deployed a combination of two Artec-508A powered enclosures in combination with point source and bass reflex systems from a third party. A Pioneer DJ CDJ-3000 Professional DJ Media Player and Pioneer DJM-900NXS2 Professional DJ Mixer complete the set-up.
The Blue Room offers live jazz on the weekends and is also used as an additional space for private events. This area is now equipped with two Artec-508A powered enclosures, five Artec-308 loudspeakers, and four Q-10 compact subwoofers. Completing the assortment of loudspeakers, DAS Audio CL-6-TB 6-inch ceiling mount loudspeaker enclosures serve the hallway and restroom areas. The amplifier rack for all this equipment consists of gear from several manufacturers. In addition to six E11even Sound EP-8K4 amplifiers, there is a Furman power conditioner, signal management equipment from BSS, and additional power amplification from MC2 and Crown.
According to Biabani, 'The sound systems throughout the venue were commissioned by John Fiorito and Geovanni Ortiz using Smaart by Rational Acoustics. This effort resulted in perfect timing alignment, precise equalisation, and finely tuned delays. Speech intelligibility is excellent, and this was an important consideration given how some spaces are also used for different types of private events.
'The design, pre-wire and installation took place over a year, and we are delighted with the result,' he adds. 'Having iPad control makes the transition seamless between music selections in different rooms, and provides a terrific way of interacting with the equipment. Our team worked hard to bring this venue to life during a year in which it was uncertain if we would ever get to the end of the tunnel. It has been a labour of love that has been embraced by DC-based artists, artisans, designers, contractors, and musicians to keep the musical beat of our city alive.'
More: www.dasaudio.com