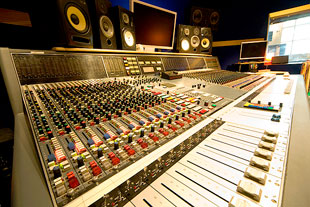 UK recording and rehearsal facility Brighton Electric is to run a series of Master Classes under the banner, 'Learn How the Professionals Really Do It'.
Currently working with Mumford & Sons, White Lies, Sigur Ros, Noisettes and The Cure, the Brighton Electric complex includes a Neve-equipped recording studio with dual live rooms, extensive rehearsal facilities and a range of related services. The Master Classes are intensive week-long modules covering theory and practical sessions, which will be presented by name producers, pro audio engineers, session musicians and technicians.
• Drums In The Studio (25-29 July)
Learn how to tune, select, mic up, record and integrate with modern technology. All the pro drummer/engineer needs to know about drums in the studio.
• Studio Engineering (1-5 August)
Intensive practical sessions with a live band including mic placement and selection techniques, creative EQ, compression, acoustics, preamps, mics and monitor set-ups.
• Live Engineering (8-12 August)
How to achieve a live sound – find your way round an FOH console, on-the-fly effects and monitoring, mic placement and quick mixing.
• Record Production (15-29 August)
Record producers share their knowledge of how to work with artists to achieve the best results. A master class in fast mixing, guiding and running a studio session, 'fairy dust' tips, tricks and more.
• How to Make Your Own Album (5-9 September)
Set up a home studio system and get results – the shortcuts, the best mics and gear, getting it out there…
The modules are based around the techniques required to achieve professional results through hands-on experience. Each module is limited to ten places, and includes unlimited access to Brighton Electric's main studio and live rooms.
'The courses are aimed at people who have been to college, completed a course or worked in project studios and now want to move on – to learn how it's really done,' says Studio Manager, James Stringfellow. 'There are lots of short-cuts and techniques that engineers employ that you will never learn unless you see them hands-on. You can read so much, hear about it via word-of-mouth, but there's no substitute for getting your hands on the gear and hearing the difference in the results achieved.
'The idea is that we are going to pass on all our top secret information on how to get the best results. I hate all the secretiveness, the smoke-and-mirrors attitude that pervades the recording business.
'Our presenters/tutors will be top names in their specialities. We will be bringing in some great names. They are the best people in their respective fields and are genuinely excited at the prospect of passing on their knowledge and experience. There shouldn't be a premium on this sort of information. Unfortunately, a lot of recording schools don't have sufficient equipment or facilities to offer that hands-on experience to their students.
'Also, we're hoping that people who have their own studios will come in and do the audio engineering course and really pick up some shortcuts and tips that will be useful to them.'
Each module runs for five days, 9:30am to 5:30pm, and includes lunch and refreshments.
Email: This email address is being protected from spambots. You need JavaScript enabled to view it.
More: www.brightonelectric.co.uk