Seeking a means of teching students audio signal flow more easily, Áron Fazakas Ph.D, Associate Professor and József 'Yogi' Lénárd, Sound Master instructor at Sapientia Hungarian University of Transylvania sought 'a more solid, analogue-based hybrid studio process'. After much research, this led them to Audient's ASP4816 mixing console, which 'perfectly met our educational and production needs'.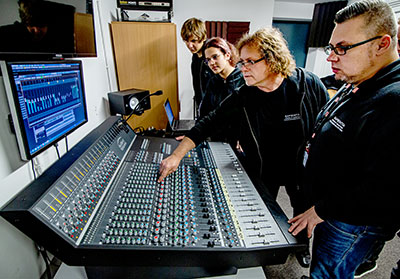 Fazakas and Lénárd make up two-fifths of the teaching staff on the Sound Master course. 'In the all-digital beginnings of our sound engineer training, the problem was that our students were always staring at the computer screen,' Lénárd says. 'Reading the various values and admiring the beautifully crafted audio plug-ins on-screen, slowly began to eclipse their confidence in their musical hearing.
'As our adult education course did not have a limitless budget, our aim was to find an analogue mixer with the best price-quality ratio. With very high quality microphone preamps, excellent EQ and noise-free signal processing, this console is perfectly suited to the sound system we have set up in our studio, thanks to its versatile connectivity.'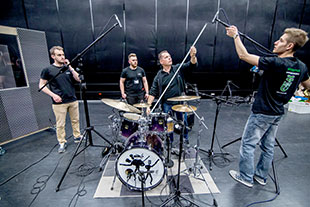 The Media Department's teaching studio in Cluj-Napoca was built in 2013, and the sound equipment here was primarily used for degree-level, practical training in TV broadcasting. 'Launched in 2016, the adult training course for Sound Mastery is based in the same space, in a 200sq-m studio. We also needed sophisticated equipment to teach the profession of sound engineer, so the analogue Audient ASP4816 console complements our existing digital desks and provides a whole new range of professional opportunities.'
Lénárd thinks the desk 'sounds very good', and appreciates the bus compressor, also highlighting the fact that they can track live studio recordings using a hybrid digital/analogue system: 'Our Roland R-1000, 48 Track Digital Recorder is connected to a Roland S-2416 converter,' he explains. 'After multitrack recording on the Short Faders (SF), our students can immediately create a pre-mixed version for the musicians.'
Indeed, all students of the accredited Hangmeister (Sound Master) adult education course in the Hungarian language at Sapientia EMTE Cluj-Napoca Faculty of Music will have the opportunity to get their hands on the British console during their time at the university.
This latest 'niche' Sound Master adult education course is open to any and all applicants. According to Lénárd, the course is designed to train sound engineers to have a solid theoretical background and practical experience, ready for use in radio and TV broadcasting, live festivals and film, as well as studio recording. 'We would like to follow this direction in future,' he says.
The ASP4816 was supplied by Audio-Technica Central Europe Ltd, distributor of Audient in Hungary, Romania, Bulgaria and Armenia.