The Hyundai Seoul department store's Alt.1 Gallery is currently hosting the first showing of Beyond The Road in Asia, following its opening at London's Saatchi Gallery. The exhibition includes works by artists from diverse fields, including film directors Danny Boyle and Alfonso Cuarón, perfume designer Azzi Glasser, and multimedia artist Tupac Martir.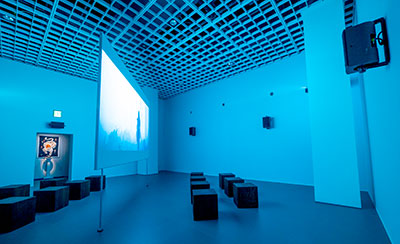 The project is a collaboration between creative producer Colin Nightingale, creative director Stephen Dobbie and electronic music artist James Lavelle of British band Unkle, and is a 'surrealist, immersive show' encompassing 33 rooms in the department store that culminating in an immersive screening room.
In preparation for the Asia debut of Beyond The Road, sound designer Salvador Garza Fishburn and the event's local promoter contacted local L-Acoustics Certified Provider SeoulSound to help create the immersive experience in the gallery. Fishburn specified an audio installation that would create and maintain an immersive audio experience throughout the 33 individual spaces. Previous experience with L-Acoustics sound systems had proved their ability to create a uniform aural experience across a range of products of varying sizes and formats.
Fishburn was also able to optimise his production time, making use of L-ISA Studio software suite to prepare creative and technical details for his sound design from his laptop while passing the mandatory two-week quarantine period in a hotel room upon arrival in Seoul. The sound was assisted by Carlos Mosquera, L-ISA Labs engineer at L-Acoustics, who helped him learn to use the L-ISA software
SeoulSound deployed more than 90 L-Acoustics boxes throughout the space, including 5XT, X8, X4i and monitors, along with Syva Sub and SB18 subwoofers. The small yet powerful X4i 4-inch coaxial loudspeaker played a crucial role in providing clear sound in ten of the smallest rooms.
X4i was also installed in the entry walkway of the gallery, as well as in the hallways that connect the rooms. The art exhibits in the hallways benefitted from the discreet profile of X4i, bridging a visitor's immersive sound experience as they explored the different spaces. One hallway featured an art installation of a graffiti-laden London public bus stop and a phone booth, with three X4i, one eight-inch monitor and a Syva Sub tucked under bus stop seats.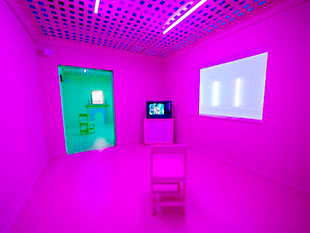 The team at SeoulSound used the Array Morphing tool in LA Network Manager to balance low frequencies throughout the spaces. 'As visitors explore all the rooms with their array of sights and sounds, we know that they are getting a uniform audio experience that will keep them immersed in the art from beginning to end,' explains SeoulSound MD, Soon Il Yun.
Several L-Acoustics monitors were installed in larger, mid-sized rooms that required longer throw. One space contined a vast dining table and a grand piano placed in one of the corners. Four monitors installed in each of the four corners of this room accompanied by two SB18 subwoofers provided an immersive experience.
The exhibition's immersive screening room is equipped with six X8 coaxial enclosures. A screen projection in the centre of this room could be viewed from seats situated on either side, with three X8 installed per side. Fishburn and his team created an audio piece to accompany the video content in which audio elements moved within the space to match the video.
Beyond The Road's delivery of an immersive experience where sound plays a key role is a success from both a technical and aesthetic standpoint. The exhibit team ramped up rapidly, using L-ISA technology to deliver a multi-sensory exhibition that reinforced visual impact with an equally engaging sound design, leaving an indelible mark on its audience.
'A few attendees acknowledged the creative focus given to the immersive sound experience of the exhibition and even enquired into the speakers that we used, seriously considering acquiring L-Acoustics for their home audio system,' SeoulSound's Yun concludes.
More: www.seoulsound.com