Close to one of Vienna's most famous streets, architect Matteo Thun created one of the city's highest profile restaurants, bar, delicatessen and wine businesses – Bar Campari. As a special project, it needed a special audio system – an Alcons Audio pro-ribbon system.
Bar Campari is owned by Peter Friese, of Vienna's Zum Schwarzen Kameel (The Black Camel). As Austria's 2018 Gastronome of the Year, his exceptional standards were a perfect match for the Campari brand.
The owners contacted Wolfgang Sauter, founder of Vienna-based systems integrator Pro Performance, with a brief for an audio system to deliver superb sound, performance and reliability. It also had to blend in with Bar Campari's exquisitely stylish décor, which is based on the lively aesthetics of Italian cafés and the graphics designed by futurist artist Fortunato Depero for Campari in the first half of the 20th century.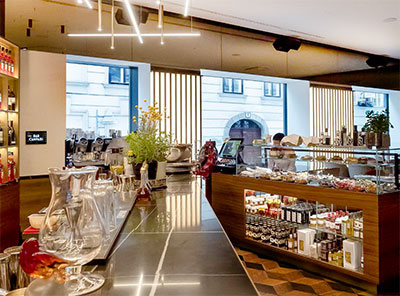 Both Alcons and Pro Performance are renowned in Austria for their ability to deliver high-quality sound in a wide range of venues. Having worked together on a number of 'statement' projects, the number of available references meant the choice for the customer was straightforward.
As well as sound quality, containment was important, as there are strict laws in Vienna regarding maximum sound levels, especially in the city centre.
The Alcons VR5 pro-ribbon mini versatile monitor uses proprietary Real-90 horizontal and vertical dispersion technology to ensure accurate coverage. Nine single 5-inch VR5 monitors were mounted on custom brackets, with an Alcons 4x2.5kW Sentinel10 amplified loudspeaker controller chosen to manage the system.
A further advantage of the Alcons solution was the company's Architect Colour Option (ACO) programme, which allows customers to have loudspeakers painted in any of the spectrum of colours from the European RAL colour scheme. To ensure the VR5s and their brackets blended in with the Bar Campari colour scheme, Friese personally specified a RAL 8017 Chocolate Brown finish.
'Planning, quotation, execution and the result convinced us that we found the right sound partner, Friese says. 'This audio system has allowed Bar Campari to enhance the high-quality ambience we offer, helping us to positively influence the mood of our guests. We would recommend Pro Performance and Alcons Audio for the perfect acoustic and visual solution.'